The Department of Law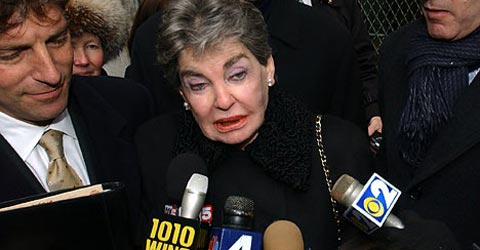 In case you missed it — heaven knows why — Sarah Palin made the network rounds on Tuesday, explaining again why she quit like a coward self-effacingly passed the ball last Friday. And during one of her sandy standups, out popped this gem:
"I don't think it will be the day after day after day of ethics violation charges that are frivolous, that are ridiculous. I think on a national level your department of law there in the White House would look at this, the things we have been charged with, and automatically throw them out, not make somebody hire their own personal attorney to get out there and fight."
Of course, everybody jumped on the "department of law" reference, chortling at the latest example of Palin's fitness for offices she doesn't ditch. And Talibunny apologists said there really is an Alaska Department of Law, although it's the same as justice departments elsewhere, and not part of the Governor's Office.
But as we were considering amusing angles to play on the story, we stopped short.
And we remembered that threatening letter Palin's lawyer issued on Saturday, calling out an Alaskan blogger by name.
And we remembered the basis of Troopergate, where Palin deployed Alaska's government on a vendetta against an ex brother-in-law.
And we remembered the letter from Wasilla resident Anne Kilkenny, who cited a "fear of retribution" among those who have crossed paths with Palin.
And then we remembered Richard Nixon and J. Edgar Hoover.
We'll never face the prospect of Sarah Palin in the White House, and we'll forever be amused by anyone who thinks she stands a chance. But if by some freak of politics she actually landed there, we have no doubt she would compile an Enemies List, and use every lever of government available to scratch off names.
That's what stopped us short when were imagining a real Department of Law in the Palin White House: We wrote down "Office of Vengeance."
Add a Comment
Please
log in
to post a comment