Department of Sticktuitiveness!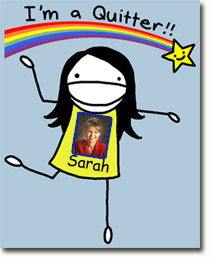 Did you know that everyone's favorite metaphor for the self-destruction of the Republican party, Sarah Palin, isn't exactly tops when it comes to finishing things she started? You probably suspected as much when she quit the governorship last week, explaining that doing anything else would mean she was a quitter (Huh?!?! WTF?!?!?) But yeah, Palin has a habit of leaving the crayons all over the playroom table without finishing her picture and leaving it to the other kids to clean up her mess.  The blog Swing State Project, for instance, notes that Sarah Palin quit the last thing she was doing before she was governess :
One other thought about Alaska that just about everyone in the tradmed seems to be missing. Sarah Palin did have a job in between being mayor of Wasilla and Alaska Governor: she was chair of Frank Murkowski's Oil and Gas Commission. How long was she on this Commission? Less than a year… until she quit in January 2004 with a big public huff (leaving the Commission in the lurch with only one member), saying "the experience was taking the 'oomph' out of her passion for government service and she decided to quit rather than becoming bitter."
And the Daily Kos adds:
Don't forget that she also quit four different colleges en route to getting a degree in journalism. It seems that the one lesson Sarah Palin's learned her whole life is that quitters always win.
Yaaay, quitters always win! I'm off to quit something right now!
(Via Daily Kos)
Serolf Divad never really quit enough stuff to be truly succesful.
Add a Comment
Please
log in
to post a comment