Dear Thomas Van Flein: Sarah Palin is a Loser, a Quitter and a Whiner, and May Be a Crook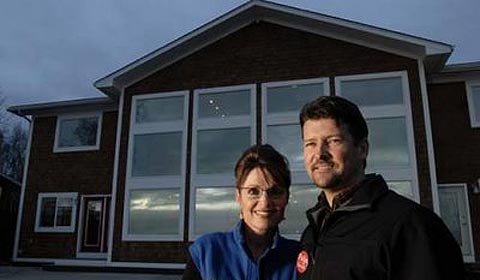 Nice windows you got there, folks.
Sarah Palin's lawyer celebrates the First Amendment with this Independence Day missive:
To the extent several websites, most notably liberal Alaska blogger Shannyn Moore, are now claiming as "fact" that Governor Palin resigned because she is "under federal investigation" for embezzlement or other criminal wrongdoing, we will be exploring legal options this week to address such defamation. This is to provide notice to Ms. Moore, and those who re-publish the defamation, such as Huffington Post, MSNBC, the New York Times and The Washington Post, that the Palins will not allow them to propagate defamatory material without answering to this in a court of law. The Alaska Constitution protects the right of free speech, while simultaneously holding those "responsible for the abuse of that right." Alaska Constitution Art. I, Sec. 5. These falsehoods abuse the right to free speech; continuing to publish these falsehoods of criminal activity is reckless, done without any regard for the truth, and is actionable.
Falsehoods? What falsehoods?
Why, Mr. Van Flein couldn't possibly be thinking of those pesky allegations that Mayor Palin arranged for some spillage from the Wasilla Sports Complex to help plug some holes in her new Lake Lucille mansion, could he?
If so, please add us to the list of troublemakers. We could use the publicity.
Add a Comment
Please
log in
to post a comment