WTF?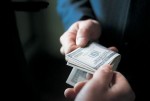 I have officially abandoned all hope:
For $25,000 to $250,000, The Washington Post is offering lobbyists and association executives off-the-record, nonconfrontational access to "those powerful few" — Obama administration officials, members of Congress, and the paper's own reporters and editors.

The astonishing offer is detailed in a flier circulated Wednesday to a health care lobbyist, who provided it to a reporter because the lobbyist said he feels it's a conflict for the paper to charge for access to, as the flier says, its "health care reporting and editorial staff."
Have I mentioned how much I hate fucking Fred Hiatt?
The offer — which essentially turns a news organization into a facilitator for private lobbyist-official encounters — is a new sign of the lengths to which news organizations will go to find revenue at a time when most newspapers are struggling for survival.
And you thought the Moonie Times was bad.
POLITICO has asked The Washington Post for a response, and will post it when it arrives.

Sources at the paper say the marketing offer may be getting ahead of what the newsroom is prepared to deliver. The newspaper recently hired someone to organize conferences, and his primary mission is to stage on-the-record events about topical subjects in Washington. Conferences are a trend throughout the news industry.

"Washington Post Salons are extensions of The Washington Post brand of journalistic inquiry into the issues, a unique opportunity for stakeholders to hear and be heard," the flier says. "At the core is a critical topic of our day. Dinner and a volley of ideas unfold in an evening of intelligent, news-driven and off-the-record conversation. … By bringing together those powerful few in business and policy-making who are forwarding, legislating and reporting on the issues, Washington Post Salons give life to the debate. Be at this nexus of business and policy with your underwriting of Washington Post Salons."

The first "Salon" is titled, "Health-Care Reform: Better or Worse for Americans? The reform and funding debate."
Of course it is.
Speechless. Except to say "fuck the old media".
TPM has more.
Add a Comment
Please
log in
to post a comment