Drip … Drip … Drip …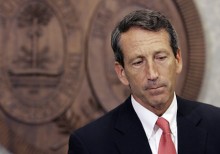 Mark Sanford admitted to an affair. Then Mark Sanford admitted to several other affairs where he did everything but put his little soldier where it didn't belong. And now he has the biggest asshole in the Senate gunning for him:
South Carolina's senior Senator believes that Gov. Mark Sanford's future as Governor will be resolved in the next week. However, Sen. Jim DeMint stopped short of predicting Sanford would resign.

"Obviously I'm concerned of whether or not he is in a position that he can continue to lead the state and a number of us are talking to him quietly and hopefully it will be resolved," said DeMint, during an appearance on Fox and Friends Wednesday morning.

"I think I'm going to stay out of predicting but I think we will see some resolution in the next week," DeMint told Fox News' Steve Doocy.
This could be more fun than the Kristol/Schmidt dustup.
Wednesday's Washington Post reports, "With every word South Carolina Gov. Mark Sanford (R) utters about his extramarital affair, his would-be successor [André Bauer] leaps closer to a job that he wants dearly but that many leaders in the state's fractured Republican Party have been scheming to keep from him."
Long knives baby.  Click through and read about Bauer's run-ins with the law. Just the sort of Republican you want running your state.
Add a Comment
Please
log in
to post a comment