Ensign's Discharge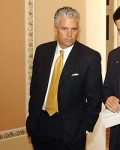 Let's forget the possibility that Senator John Ensign (R-NV) engaged in a second affair and turn our attention back to the first.  Cynthia Hampton's husband, it turns out, wrote to Fox News anchor Megyn Kelly five days before Ensign 'fessed up seemingly to ask her to bust Ensign.  He begins:
Here is my story. In December of 2007 in the midst of some very difficult personal issues that deeply impacted my family and marriage, Senator Ensign pursued and engaged in a relationship with my wife. Our families were lifelong friends, our children attend school together to this day, and our homes are in neighborhoods across from each other. My wife was the Senator's campaign treasurer.
Interestingly:
The unethical behavior and immoral choice of Senator Ensign has been confronted by me and others on a number of occasions over this past year. In fact one of the confrontations took place in February 2008 at his home in Washington DC (sic) with a group of his peers. One of the attendee's (sic) was Senator Tom Coburn from Oklahoma as well as several other men who are close to the Senator. Senator Ensign's conduct and relentless pursuit of my wife led to our dismissal in April of 2008. I would like to say he stopped his heinous conduct and pursuit upon our leaving, but that was not the case and his actions did not subside until August of 2008.
Coburn, of course, is another GOP professional Christian douchebag. Someone needs to ask him why his holier-than-thou ass helped Coburn cover this shit up.
The actions of Senator Ensign have ruined our lives and careers and left my family in shambles. We have lost significant income, suffered indescribable pain and emotional suffering. We find ourselves today with an overwhelming loss of relationships, career opportunities and hope for recovery. Our pursuit of justice continues to place me and my family in harm's way as we fear for our well being (sic).
What – he's afraid Ensign's going to cockslap him?
Please help me! This should not be how the leadership of our country should be allowed to behave. I need justice, help and restitution for what Senator Ensign has done to me and my family. Regardless of technicalities, regardless of position, regardless of power this cannot and should not be tolerated in our country from our trusted leaders. Will you help? Will you consider a meeting with me to further discuss this story and what can be done to bring justice and correction to this situation?
So what does Hampton want? The affair was apparently over.  Did he want Fox to threaten to run the story unless … what?  Or is this pure revenge?
Republicans are weird.
Add a Comment
Please
log in
to post a comment