Media Blackout of Minuteman Extremists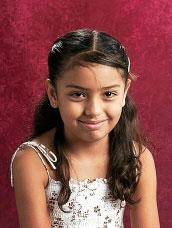 The picture you see to the left is that of a beautiful child named Brisenia Flores. She beams an awkward little smile for the photographer that is common in chidren of that age, and she reminds me very much of my own five year old daughter (whose last name, by sheer coincidence, is also Flores). But unlike my daughter, Brisenia will never again flash that beautiful smile to a photographer or anyone else for that matter. That is because on March 30 of this year Brisenia, who was nine at the time, was murdered by members of a Right-wing terrorist, anti-immigrant, paramilitary group called the Minutemen American Defense, a group with ties to the larger Minutemen paramilitary vigilante organization that patrols the U.S. border on a self proclaimed mission to halt illegal immigration into this nation. This is how the blog Crooks and Liars describes the 9/11 tape of the call that Brisenia's mother placed on the night of the shooting:
She explains that the killers walked up cold-bloodedly to her daughter, 9-year-old Brisenia Flores, as she cowered and cried, and shot her two or three times anyway.
Stinquers will forgive me for relying on that blog's description, but I have not been able to bring myself to listen to the tape. As I said, I have a daughter who is probably the same age as Brisenia was when the above picture was taken and I don't think I could bear to live her mother's experience even voeyeuristically.
If Brisenia had been a white child, murdered by a domestic Islamic terrorist organization, one can imagine that coverage of the crime would dominate Fox News  for multiple news cycles. Don't believe me? Then recall Bill O'Reilly's misplaced outrage at CNN for supposedly failing to cover the murder of a U.S. serviceman by a lone Moslem extremist with no known connection to any larger group:
[ Media Matters Flash video not available. ]
O'Reilly had to retract his charges, lamely explainig that he was referring to CNN's "Prime Time" coverage, not the network's coverage trhoughout the day.
So, how does Fox News stack up when it comes to covering the murder by a Right-wing, nativist, terrorist network, of  a very young Chicano child? The answer is not very well. Indeed, going by the Fox News website, there has been a virtual blackout of the story by that network. A search of the site reveals only one story that mentions Brisenia (one receives similar results when running searches on the various players in the murder). And that story itself is  interesting mainly for what it does not say about the crime. For one thing, it is an AP Story, not one that Fox had its reporters cover directly. In addition, the story hardly makes any mention of the criminals' connection to the right-wing anti immigrant movement in America, and makes no mention at all to the group's name or its founder's close ties to the broader Minuteman Militia. Inf act, this is all it says about the group and its activities:
The Pima County Sheriff's Department last week arrested a woman and two men in connection with the attack. The suspects are members of a small anti-illegal immigration group that sought cash or drugs to fund border watch operations, police say.
That's it. It would appear that there are facts about this case that Roger Ailes doesn't think Fox News readers need to concern themselves with. But if you think Fox News is the sole problem here, think again. In fact, Fox fares better in its coverage than eiether CNN or the New York Times, which, judging by searches performed on their websites, have not covered the story at all!
This is not to say that the mainstream media have been completely derelict in their coverage of young Brisenia's tragic death, as a quick google search reveals. But the fact that many of the nation's most prominent news outlets seem largely indifferent to the crime (Only two mentions on MSNBC, for instance) speaks volumes about the way our national priorities are set and skewed, about who has a voice in this nation, and who does not.
Serolf Divad wishes he didn't have to write this story. Now he has to wipe the tears fom his eyes.
Add a Comment
Please
log in
to post a comment