It's A Meme!!!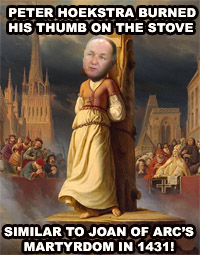 You know that guy don't you? You know who I'm talking about. The guy who, no matter what the conversation, finds a way to make it all about him.  You can be all "So I took my car in to the shop for a regular maintenance and the mechanic is telling me I need new pads, rotors and wheel bearings and it's going to cost me $1200!" And this guy instantly replies "Oh, that's nothing. Last fall my car was hit by a meteor and erupted into a ball of flame." Then later your other friend is like "My daughter is so sad because our dog ran away two days ago and he still hasn't turned up." And this guy doesn't bat an eyelid before responding: "That's nothing, back in '92 one of my cats was eaten by an alligator." So no matter what the conversation, he tries to one-up you with an anecdote of his own.
Well, GOP rep. Peter Hoekstra revealed himself to be just such a guy recently when he remarked on Twitter:
"Iranian twitter activity similar to what we did in House last year when Republicans were shut down in the House."
Not long after, Crooks and Liars Logan Murphy observed that the best part of Hoekstra's tweet were the commenst that users added after, comments such as:
jwzich

:

@petehoekstra Didn't have breakfast this morning, it was exactly like the Great Potato Famine

ttauchi

:

@petehoekstra Gave my 5yo a time-out; now she knows what her great-grandparents went thru in the WWII Japanese -American internment camps.

dbentley

:

To @petehoekstra: I saw an empty building today. now I know what it's like to live in Michigan.
Add a Comment
Please
log in
to post a comment