Get Your Popcorn Ready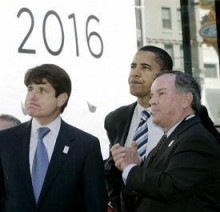 As mentioned in a thread earlier today: Richard M. Daley, Mayor — whilst promoting the Chicago 2016 Olympic bid — kited a check.  A really big one.
Faced with losing the 2016 Summer Games to competing cities offering full government guarantees, Mayor Richard Daley made an about-face Wednesday and said the City of Chicago would sign a contract agreeing to take full financial responsibility for the Games.  In a worst-case situation, such as severe cost-overruns or a catastrophic event, the agreement could leave taxpayers on the hook for hundreds of millions of dollars or even more, a scenario Chicago's bid team acknowledges but insists is far-fetched.
Far-fetched my ass.  This is Chicago.  There will be "cost-overruns."  (These are referred to, in other parts of the world, as "kickbacks.")  Everybody knows this.  And so the City Council — recently burned on a parking meter privatization deal that Rich pushed through and has since gone horribly, horribly wrong — wants another look. 
Now: the reigning World Champion of Hope is going to Denmark in October when the final vote is taken.  If Chicago wins, it shows Barry's power and influence.  If the bid fails, then it will be taken as a sign of the bloom coming off his rose.  And, in fact, the outcome could have nothing to do with Barry, and everything to do with purely local politics — pressure on the City to use money for other things (like, oh, I don't know, schools), anger over sudden increases in taxes and fees at precisely the wrong moment, corruption and graft and patronage and on and on. 
The intricacies of all of this could fill a book.  As could the bullshit.  This is going to be fun.
Add a Comment
Please
log in
to post a comment