Politico's Drudge Report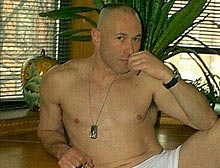 We weren't aware that Politico was in the business of contriving wingnut memes, but they took a Chrysler-worthy stab at the market last week with their report that the White House flack has a disturbingly healthy sense of humor.
Politico's unassailable methodology: Count the number of times "[Laughter.]" appears in briefing transcripts. More than 600, apparently, dwarfing also-ran Tony Snow's 217 larfs during his first four months.
We'll grant that this approach has a glorious tradition behind it, from tallying Nixon's expletives deleted on an abacus, to harnessing the latest supercomputer for a statistical analysis of Blago's fuckfests. We'll even allow a passing amusement in calculating Robert Gibbs' Word/Chortle Ratio.
But that cut-to-the-piano-cat perspective doesn't respect the gravitas that Politico's Robert Gavin brings to the subject:
The United States is facing its biggest financial crisis in ages. North Korea is blowing up nukes. Dick Cheney warns us of the "dangers that have not gone away." And there are still wars raging in Afghanistan and Iraq.

But over in the White House press briefing room, it's a veritable laugh riot…

Tim Graham, who watches for liberal press bias at the Media Research Center, says all the high times may be a sign of reporters' political affinity with the Obama administration. 
 
"It's possible that reporters just think Gibbs is much funnier than the Bush people," Graham said. "But I think this is another subliminal sign that reporters are much more comfortable with a spokesman that represents the hope and change they voted for."
Of course, we know what kind of reporter the Bush Administration was more comfortable with. For that matter, we'll wager that Jeff Gannon generated far more laughs outside the briefing room than Robert Gibbs does inside it.
Add a Comment
Please
log in
to post a comment