Praise Jesus!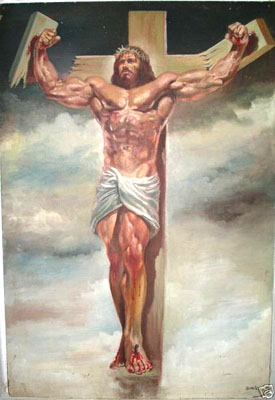 From time to time, a member of my flock will approach me with a seeming conundrum.  "Pastor Divad," he'll say, "why is it that the Lord doesn't work miracles any more?"
When that happens, I act quickly to nip those sorts of doubts in the bud. After all, that's the sort of unadvisable question that often lead the doubter to much greater sin. If a pastor can't quickly put doubts like that to rest, next thing you know your lost little lamb will start asking why God made stars that appear to be millions of years distant, even though the whole Universe is only 6,000 years old.
Because let me reassure you, brothers and sisters, miracles do still occur. But don't take my word for it. Listen to the words of one who has personally witnessed one: Baltimore councilwoman Helen L. Holton, who recently e-mailed the following testimony out to her supporters:
"God that can do anything but fail has found favor with this child of his … HALLELUJAH! HALLELUJAH! HALLELUJAH!"
And what miracle moved Holton to glorify the Allmighty in such lofty terms? Was a constituent's missing child recovered unharmed and returned to his grateful mother? Did a faithful husband and father of four make an unepected and full recovery from a frightful automobile accident? Was a teenager's leukemia fully vanquised that she might enjoy a long and fruitful life. Well… not quite… to understand the miracle first you need to know that not long ago Holton was indicted by state prosecutors for bribery. And things were looking grim. But then the good Lord Jesus stepped in to protect his faithful servant, foiling the prosecutor's schemes by allowing Holton to escape a prison sentence on a technicality. And make no mistake, Holton did not escape earthly judgment because she was innocent (or any other such non-miraculous explanation). Not at all. In fact, Ronald H. Lipscomb, the man who bribed her, is still facing charges. Rather, it was a intercession by Baby Jesus Himself that saved her, as Holton so boldly proclaims in her electronic missive.
One of America's most commendable traits is our reverence for religion… for any sort of organized religion, regardless of how absurd the precepts. See, Americans don't really care much which religion you subscribe to, as long as you subscribe to some religion or another. This is why polls consistently show that Americans on the whole are more willing to vote for a Mormon, a Catholic, a Jew, even a homosexual for president before they'd consider voting for an Atheist.  It's why a church that was founded by a huckster and until recently promoted bigamy as a religious duty can proclaim itself a defender of "traditional marriage" while sucessfully  funding a ballot initiative in California that sought to deny gay couples the right to wed. It is why we still revere as moral authorities the representatives of  a church whose most notable recent acheivement is surviving a widespread paedophilia scandal that would have destroyed any other comparable secular organization. It is why one of our most influential religious figures, who is frequently invited as a commenter on prestigious national news programs, also happens to be an shameless, though unindicted crook.
In the end, councilwoman Holton was right to so vociferously and publicly praise Jesus for showering her with His divine favor. The blood of Jesus cleanses all stains, better even than a bucket full of Oxy10, and if anything what we have learned through observation is that in America, all it takes to turn a steaming turd into a tasty filet mignon is to wrap it in a tatsy slice of bacon flavored Jesus!
Praise the LORD!
Serolf Divad ministers to his flock of female teenaged runaway in the Branch Divadian compound in Whackjob, TX.
Add a Comment
Please
log in
to post a comment