The Gift That Keeps On Giving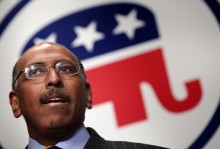 One of my co-workers just tapped me on the shoulder and told me something Michael Steele supposedly had just said. I did not believe him.  I was wrong:
STEELE: Those of you who live outside of Washington know what I'm talking about. Those of you who actually attend Lincoln Day dinners and county party events. Those of you who toll in the vineyards, spending time in communities in diners, barbershops, and coffee shops, where real, everyday, hardworking Americans can be found. You know it's real. You can see it, and you can feel it. This change, my friends, is being delivered in a tea bag. And that's a wonderful thing.
I love this guy.  I hope he's RNC chair forEVAR.
And there's video.
Could this be Peak Wingnut? Have we reached The Wingularity?
Add a Comment
Please
log in
to post a comment