A Fistful of Wankers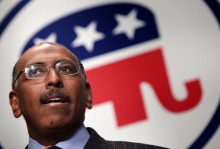 The wankery alert system is in the red today – let's start with Chairman Michael Steele, who thinks that the days of the GOP apologizing for its sins are in the past, that they've turned the corner!
First, the Republican Party will be forward-looking – it is time to stop looking backward. Republicans have spent ample time re-examining the past. It has been a healthy and necessary task. But I believe it is now time for Republicans to focus all of our energies on winning the future by emerging as the party of new ideas.
New ideas? Bwa. Fucking. Ha.
Forget his second point – you can click through see how delusional it is for yourself. Fording ahead:
Third, the Republican Party will seize upon momentum for a GOP resurgence that is already under way in states and local communities. I have traveled extensively since being elected RNC chairman, meeting with state party leaders and grassroots activists alike. There is genuine enthusiasm for a Republican balance to the reckless excesses of the president and congressional Democrats. I believe the Republican Party can ride that wave of local enthusiasm to victory in upcoming elections. 
Resurgence?  Everything I've seen says the Republicans are floundering more than ever.
But seriously – fuck Michael Steele – he'll be gone shortly.  Let's look at our contestants for torture apologist of the day.  Contestant 1:
Sadly, Hasselcrack has reproduced, so we're stuck with another generation of imbeciles. Contestant 2:
https://www.youtube.com/watch?v=YmMpsQ95K9k
And finally, Contestant 3:
https://www.youtube.com/watch?v=A6mebwGSg_I
Hasselbeck wins Miss Congeniality, but she didn't stick her landing.  Hannity is Hannity – one blame-Clinton talking point after the next, and that's really old.  Scarborough, on the other hand, has apparently attended the Bill O'Reilly School of Physically Threatening a Guest.
I know my choice.  What say you?
Add a Comment
Please
log in
to post a comment