By the Way, We're Still Doomed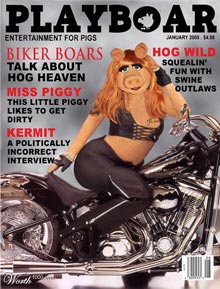 Just when you thought it was safe to resume fucking pigs, the swine flu is back. Not that it went away, but once we realized it wasn't going to decimate the world population by week's end, we got distracted by iPhone Myst.
Swine flu remains a "phase 5" threat, somewhere between contagious yawning and Black Death. Under World Health Organization rules — which some nations are challenging because it would be a bummer — if the flu spreads just a little more, we'll have a grand old pandemic on hour hands.
The problem is that the virus isn't following God's Plan for weeding the garden of humanity. CDC guidelines, for example, cover typical settings like hospitals, nursing homes, and day-care centers. Nobody expected high schools to be the cesspools of Armageddon:
Teenagers, experts say, are different from the victims of seasonal influenza. The bed-ridden, the very ill and infants can be forced to practice good hygiene, or isolated or sent home if they won't.

But teenagers resist tedious advice to wash their hands for 20 seconds, cover every cough with a tissue or sleeve and stay away from other teenagers. If school is closed, they are likely to get together at the park or the mall.
In other words, children may be our future, but teenagers will be the death of us.
New York remains under slow-motion siege, and Japan just entered the world rankings, jumping from four to more than 170 cases over the weekend. Worldwide, 8,830 cases have been confirmed in 40 countries, leading to 76 known deaths.
So no, we're not quite partying like it's 1918. And a typical flu season is still nastier. But until we're better at teaching flu prevention than we are at sex education, you might not want to laugh Joe Biden out the room just yet.
Add a Comment
Please
log in
to post a comment