To Sleep, Perchance to Hallucinate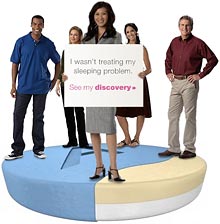 So we're watching SNL — no, not the sketch where they beat Family Guy to the network-promo gag — and some prescription drug commercial comes on, and as the soothing announcer recites the side effects, we start dreading whatever disease would require suffering these consequences:
Sleepwalking, and eating or driving while not fully awake, with amnesia for the event, as well as behaviors such as being more outgoing or aggressive than normal, confusion, agitation, and hallucinations have been reported. Don't take it with alcohol as it may increase these behaviors. In patients with depression, worsening of depression, including risk of suicidal thoughts or actions may occur.
Not to mention an unaccountable urge for demon wieners.
But what affliction could possibly be worse than this cure? Dripping kidneys? Exploding urethra? Whooping colon?
Nope: Imsomnia. It's a sleeping pill. An while we can't find the commercial online, upon visiting the Ambien website to double-check the fine print, we encountered the graphic here, with this warning: not actual pill size. Is that before or after the hallucinations?
Y'know, we think we'll stick with the imsomnia. We'd hate for someone to mistake us for a zombie and blow our head off.
Add a Comment
Please
log in
to post a comment