Missionaries Accomplished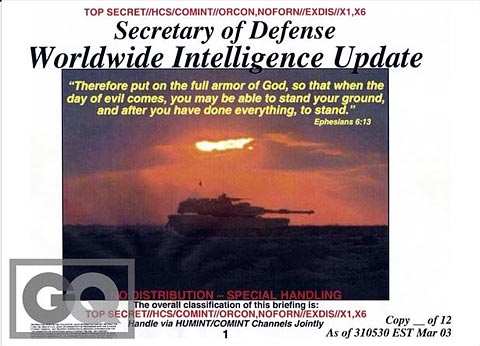 GQ has a slideshow of actual cover sheets used for intelligence briefings in March-April 2003 — when we invaded Iraq. They're the work of Major General Glen Shaffer, and despite objections from within the Pentagon, Shaffer argued the bosses were cool with it:
When colleagues complained to Shaffer that including a religious message with an intelligence briefing seemed inappropriate, Shaffer politely informed them that the practice would continue, because "my seniors" — JCS chairman Richard Myers, Rumsfeld, and the commander in chief himself — appreciated the cover pages.
We'll have to double-check our Gideon, but we weren't previously aware of a Book of Quagmire.
Add a Comment
Please
log in
to post a comment