Tyrannosaurus Rex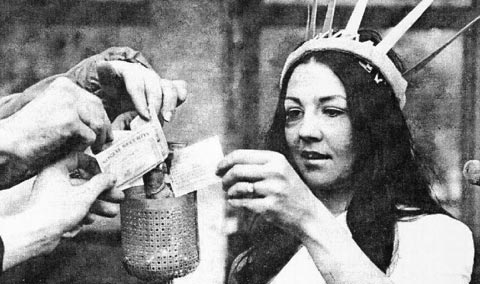 "First Historic Public Burning of Social Security Cards"
Thanks to JNOV's scouting, we've become rabid fans of rexcurry.net, which reads like a Talking Heads album cover come to life, it's so full of adorable crazy-ass folk politics:
Rex the iconoclast is the first person to publicly burn his social security card in protest to end socialist slave numbers and the first and only person to organize the public burning of SS cards against Nazi numbers and the only place on the web with the historic photographs.
Rex comes to our attention because, well, we came to his. Last November we observed the passing of the man who added "under God" to the Pledge of Allegiance, and Rex saw fit to include our post on his site. That's where JNOV discovered it — and after some chitchat here about her discovery, Rex updated his page to include the Google-bait phrase SWASTIKA STINQUE.
Which all makes sense, provided you waste enough time piecing it together.
Back when we wrote our obit, we neglected to include the fun irony that Francis Bellamy, who composed the original Pledge in 1892, was an avowed socialist, and cousin of better-known socialist Edward Bellamy. That biographical detail is what sets Rex off, and he chides folks like us for not objecting to the entire Pledge, just the Under God part.
So for the record, Rex: We're not fans of requiring six-year-olds to chant loyalty oaths before math. But we're highly amused by people who think our Republic will fall if kids fail to conduct their sacred duty.
And while we're too lazy to double-check Rex's extensive research, we'll take his word that there's even more to the Pledge story than we've known. Apparently the original salute accompanying the Pledge wasn't hand-on-heart, but an outstretched arm. And before the Nazis — or as Rex prefers, the National Socialist German Workers' Party — co-opted the swastika, it was a commonly used graphic device with ancient origins. Robert Baden-Powell even incorporated it into a Scouting badge.
Thus: You can chart a Line of Tyranny that starts from the Pledge, leads through the Boy Scouts and the swastika to the Nazis, and lands squarely on us.
Or something like that.
But you really have to visit his website to experience the full derangement of senses on offer. And then, just to blow your mind, visit his faculty page at Hillsborough (Florida) Community College, where you'll learn that he's not some backwoods savant, but a practicing lawyer. Oh, and if any students from his criminal justice class drop by, we've love to hear from you.
Add a Comment
Please
log in
to post a comment