Everything That Happens in My Life is Unique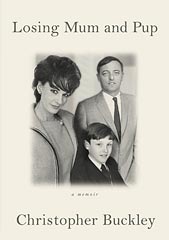 Title: Losing Mum and Pup: A Memoir
Author: Christopher Buckley
Rank: 40
Blurb: "As Buckley tells the story of their final year together, he takes readers on a surprisingly entertaining tour through hospitals, funeral homes, and memorial services, capturing the heartbreaking and disorienting feeling of becoming a 55-year-old orphan."
Review: "It's too damn bad his poor parents can't disinherit from the grave!"
Customers Also Bought: "Wishful Drinking" by Carrie Fisher
Footnote: Our 538-page memoir, What I Had for Dinner Last Night, is in galleys.
Buy or Die [Stinque@Amazon kickback link]
But wait! There's more!
We hear talk in steerage that folks want to start up a Stinque Book Club for real, so here's your chance to arm-wrestle for the first selection. If y'all can come to a consensus, we'll post your reading assignment in a sidebar, and feature it the first Sunday in June so you can take turns playing Brian Lamb.
Add a Comment
Please
log in
to post a comment