A Convergence of Wingnuts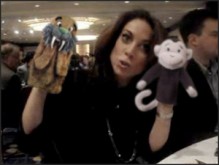 It was only a matter of time before they found each other. Prendergast at Dump Bachmann:
I don't know what to do with this one. I really don't. I'm just going to put it up here and see what happens.

It seems that on April 1st of this year, a conservative blogger named Pamela Gellar [sic] interviewed Michele Bachmann. It's twenty minutes long, and Michele starts talking revolution again. She's comparing conservative blogs with the Committees of Correspondence that helped to foment the "original" American revolution, and accusing the Obama administration of trying to end US sovereignty and freedom again.
It's one thing when the clinically insane blog.  It's quite another when one of their number has a seat in the House of Representatives.
From Pammy's post:
Pamela: And I mean, the RNC needs to get behind of folks like Alan West. Mambie pampies are just not going to do it, we need to stop moving to the Left. It has to stop.

Bachmann: Right. We actually, this is a man-made, government-made disaster, this economic conundrum we're in right now. We could see ourselves go forward next quarter already if we do a few things, if we would do this. If we would permanently zero out the capital gains tax for four years, so that we could let people know that for four years there would be zero capital gains tax. Take the business tax rate from the second highest in the world, 34%, and cut that down to 9% for a corporate tax rate, that would be bring in foreign investment and jobs back into the United States. Completely eliminate the death tax, completely eliminate the alternative minimum tax, and then I think that we need to bold on income tax. Scrap the income tax code, and put into place a tax system where everyone has to get in on the game.
Incoherent much? Pammy:
Bachmann really gets it. This is a woman I would gladly follow into battle. She's a comer. If America is to emerge from this war from within, it will be under the stewardship of great Americans like Bachmann. I am a huge fan.
Prendergast:
There's lots more of Pamela's views available on her website. For example, she describes the Department of Homeland Security report on right-wing extremism as "the fascist blueprint to create a police state and legalize gulags." She also links to some guy who transcribed part of the Bachmann interview. He's convinced there's an "Islamic hegemony in Scandinavia." And if you listen to the interview, you will hear Pamela and Michele note that we're all going to "wake up in a gulag" if we don't get wise to this Obama thing.
My prediction?  I don't think much will come of this relationship, but it will push Atlas Juggs even closer to the inevitable psychotic meltdown.  She's not dangerous – like some of the teabaggers – but simply to be mocked.  Pass the popcorn.
Add a Comment
Please
log in
to post a comment