Kristol: Obama, Hitler, blah, blah,blah.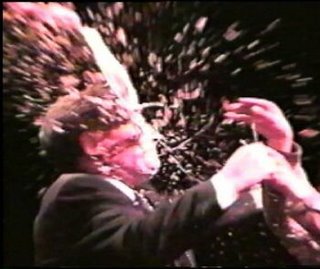 There's a theory about Bill Kristol and his brief tenure as columnist for the New York Times (and before you object to my use of the adjective "brief," please note that a root canal typically only takes about a half hour to an hour even though it feels like an eternity, and that William Safire, by contrast, spent 32 years as a Times columnist). The theory is that Kristol actually viewed his Times column with contempt; that he put little if any effort into his writings, "phoning them in," as it were, and picking up a handsome paycheck for an average of fifteen minutes of work per week. Let's call this theory the "laughing all the way to the bank" theory of William Kristol.
But there's another theory about William Kristol's output during that time, that I'd like to call the "no, you see, Kristol really is that stupid" theory. According to this theory, William Kristol did, in fact, devote himself to his column with an admirable sense of dedication and due respect for the position he had filled as one of the Times two regular conservative columnists. It's just that he's really, really stupid.
Now, as with most debates the truth of the matter may lie somewhere in between these dueling positions, but I think Kritstol's latest column in his new home, the Washington Post, tends to lend more credence to the second… a lot more. The column is titled "A World Without Nukes — Just Like 1939" and really, you don't need to read any further to grasp the full depth of just how awful the rest of the column is. In fact, from now on I'd probably recommend that Kristol just come up with a snappy, incredibly asinine title for all his future columns and cut and paste a random article from Wikipedia into the body of the piece because… I mean, really… for fuck's sake Kristol: "A World Without Nukes — Just Like 1939"? Are you serious? Couldn't you think of something a bit less preposterous, like, say: "Barack Obama is Hitler's Clone."
Now, as much as I'd advise those whose time has actual monetary value attached to it to not waste it reading Kristol's column, it must be noted that in passing it over you will be missing gems like this:
The war that began in that nuclear-free world led to a crash project to develop nuclear weapons. It ended with America's use of them — something Obama alluded to: "As a nuclear power, as the only nuclear power to have used a nuclear weapon, the United States has a moral responsibility to act."

It's not clear whether this statement implies disapproval of our use of nuclear weapons in 1945. It's telling, however, that Obama never referred in his Prague speech to the Second World War. Instead, he called the existence of thousands of nuclear weapons "the most dangerous legacy of the Cold War." This framework makes it possible to think of a world without nuclear weapons as a logical response to the end of that conflict: "Today, the Cold War has disappeared but thousands of those weapons have not."
You see, while it's true that the Cold War is by any reasonable definition of the term "over," the Second World War is most decidedly not and unilaterally disarming would just invite an attack by Hitler's android-mecha army from deep within the South American jungle where the Nazis have been regrouping and researching a new generation of futuristic, secret weapons.
Plus we have other enemies to think about, too, and Obama is clearly not ready to deal with them either. Not only is he not invading North Korea yet (And why not, Mr. Obama, when every U.S. president before you invaded that country at least twice within his first 100 days?) but there's also Iran to consider:
"We want Iran to take its rightful place in the community of nations, politically and economically. We will support Iran's right to peaceful nuclear energy with rigorous inspections. That's a path the Islamic Republic can take. Or the government can choose increased isolation, international pressure, and a potential nuclear arms race in the region that will increase insecurity for all."

Obviously, Obama recommends the first path. But notice what he didn't do. He didn't say that a nuclear armed Iranian regime is unacceptable. He didn't express a commitment to preventing such an outcome, or confidence that the United States and international community will prevent such an outcome. He simply suggested that it wouldn't be optimal for Iran to choose that outcome.
You see, Obama's the kind of guy who, if a terrorist threatened to blow up a school bus full of first graders would be all: "Do whetever you want, my friend, but blowing up the school bus probably isn't your optimal strategy."
At least that's what he'd say if Kristol got to write the script.
Add a Comment
Please
log in
to post a comment