Pigs in Space!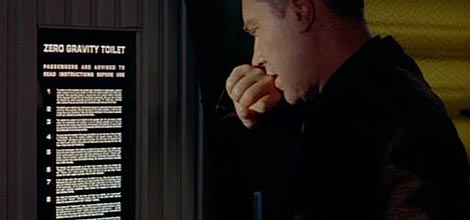 We haven't paid much attention to space travel since they faked the moon landing, but the International Space Station news over the past couple of weeks makes us wonder what kind of pigsty they're running up there.
First there was the story about the Japanese astronaut not changing his shorts, which we would consider very abusive in a closed environment.
Then there was the rumor about NASA offering Stephen Colbert a naming opportunity with a toilet, in lieu of the new node that's rightfully his.
And now we're hearing about a Commienaut bitching because the Yanks won't let him use their bathroom.
Which, getting back to that closed environment, strikes us as somewhat counterproductive. Do they expect Boris to step outside when he has to Spassky? Is the space station some kind of RV where nobody dares use the shitter?
Because if the dude has to deuce, pure self-interest would dictate letting him have the bowl instead of living with floaties for the duration. You don't want him boldly going where no man has gone before.
Add a Comment
Please
log in
to post a comment