Bush's Body Count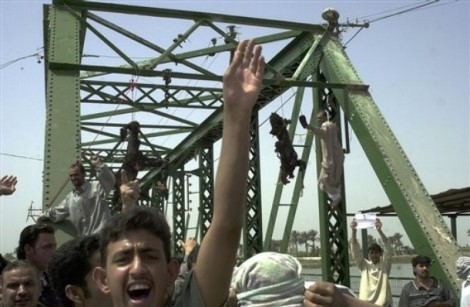 Never fear, our former Preznit is still servin' up steamin' heaps o' that deeelicious freedom!
LONDON, March 30, 2009 – Ground Zero for the so-called 'war on terror' is a nation where gays and lesbians live in real terror every day. Among the suffering of gay Iraqis is the regular threat (and carrying out) of rape and murder. In July, CNN reported on the case of a young gay man abducted for ransom and raped daily for more than two weeks.
Well, like Rummy said, freedom is untidy.
More than 100 prisoners in Iraq are facing execution. Many of them, says an underground gay rights organization in the country, are believed to have been convicted of the 'crime' of being gay, the UK-based Iraqi-LGBT group revealed this afternoon.

According to Ali Hili of Iraqi-LGBT, the Iraqi authorities plan to start executing them in batches of 20 from this week. There is, said Hili, at least one member of Iraqi-LGBT who are among those to be put to death.
But wait! – you cry.  What about Saddam?  Didn't he hang gay people too?
"The death penalty has been increasing at an alarming rate in Iraq since the new Iraqi regime reintroduced it in August 2004.

"In 2008, at least 285 people were sentenced to death, and at least 34 executed. In 2007 at least 199 people were sentenced to death and 33 were executed, while in 2006 at least 65 people were put to death.

"The actual figures," Mr. Hili suggested, "could be much higher as there are no official statistics for the number of prisoners facing execution."
No official statistics?  Wonder where the Iraqi government learned to do that ….
Most are likely to have been sentenced to death by the Central Criminal Court of Iraq (CCCI), whose proceedings consistently fall short of international standards for fair trial, Mr. Hili said.

"Allegations of torture are not being investigated adequately or at all by the CCCI. Torture of detainees held by Iraqi security forces remains rife.

"Iraq's creaking judicial system is simply unable to guarantee fair trials in ordinary criminal cases, and even less so in capital cases, with the result, we fear, that numerous people have gone to their death after unfair trials.

"The Iraqi government must order an immediate halt to these executions and establish a moratorium on all further executions in Iraq, particularly since due process cannot be guaranteed.

"The state executing people for 'morals' crimes is also obviously unacceptable and deplorable, "he said.
And the bodies keep piling up.  Heckuva job Georgie.
Add a Comment
Please
log in
to post a comment