Hot Semifinal Action!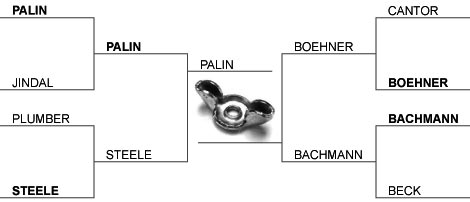 Mob favorite Sarah "Talibunny" Palin came out strong against opponent Michael "Tossed Salad" Steele this weekend in the Wingnut Tournament semifinals, drawing spectacular fire from former teammate John "Psychogeezer" McCain, and sucking the air from the court with run-and-gun infighting. Steele's new Obama's-Just-Not-Into-Me defense withered in face of the onslaught.
Palin opened with a follow-up to last week's high-scoring play, when she took down McCain's staff for not being Christian enough to pray with her. That brought the Geez off the bench Sunday to non-endorse Palin for 2012, preferring to wait for the tournament outcome instead of reaffirming his confidence in the woman who stood a significant actuarial chance of succeeding him in office.
But Palin, who puts the diva in division, wasn't resting on her laurelessness, turning out her minions to engage in a backcourt brawl for the pleasure of courtside reporters:
Interviews with Alaska and Washington-based GOP political professionals who are familiar with the Palin operation describe the governor's team as a gang that couldn't shoot straight, a staff whose failure to execute basic political maneuvers too often entangles the governor in awkward and embarrassing situations that could have easily been avoided.
Palin's secret weapon? SarahPAC éminence grise John Coale, a triple-threat utility who supported Hillary "Swampsow" Clinton in last season's qualifying rounds, has emerged to become the highest PUMA in the land, and legally pestorks "Cooking with" Greta Van Susteren.
"These people are amateurs," raved a Republican fan. "Palin is now a national figure and she can't afford to have a junior varsity staff."
Despite Talibunny's Big Mo, she still has to meet the winner of the Boehner-Bachmann matchup in the Wingnut finals before she can claim the Limbaugh Oxy Cup. Color commentator Bill "Play Us Out" O'Reilly will preview the action on today's edition of The View.
Add a Comment
Please
log in
to post a comment