Republican Realignment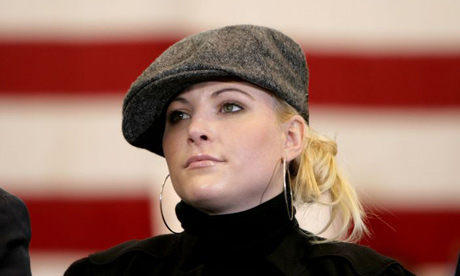 First it was Rush and Michael Steele, now it's these two:
Writing about the spat with [Laura] Ingraham on her Daily Beast blog this weekend, [Meghan] McCain wrote that "instead of intellectually debating our ideological differences about the future of the Republican Party, Ingraham resorted to making fun of my age and weight." "At this point, I have more respect for Ann Coulter than I do for Laura Ingraham because at least Coulter didn't come back at me with heartless, substance-less attacks about my weight," wrote McCain.
Ingraham fired back while McCain was appearing on The View.
While the show was airing, Ingraham responded on her radio show. "I think Meghan McCain is a delightful, lovely person," she said. "But now Megan is so thin skinned and the lovelies on The View are so in search of material." Ingraham continued to mock McCain with a Valley-girl voice, and she added that McCain needs to "lighten up".
It's fun watching them fly into bits.  I'll say it again – all the GOP has left are sociopaths, the home-schooled, and the clinically insane.
Add a Comment
Please
log in
to post a comment