Fifteen Seconds of Fame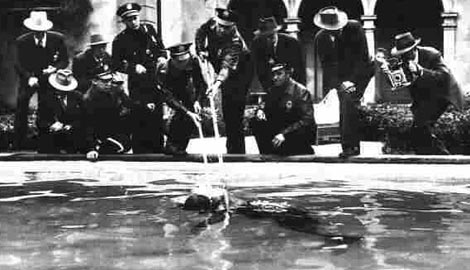 Well, that was interesting. We have no idea how yesterday's dirge reached Ana Marie Cox, but once she posted it in her Twitter feed, the phone started ringing off the hook.
Granted, that was Wells Fargo trying to pitch us insurance, but still.
We first noticed something odd was happening when Twitter sent us a handful of subscription notices in the morning, immediately surpassing our monthly average. And then RomeGirl told us folks were subscribing to her Twitter feed as well.
We'll call that the Twitter Trickle. And flagellate ourself for doing so.
Next thing we knew, Ann Althouse propagated the Ana Marie meme, which amazed us because we've never heard of Ann Althouse, although fellow Overlords and sundry Below-the-Timestamp folk were quick to share strong opinions of her.
But we thank Ann for the link, mainly because it provided her commenter Great White Father George an opportunity to conceive a t-shirt we'll get around to designing someday:
And Stinque. Is that something or someone that is cool now and whose opinion must be respected?
Bless you, Great White Father. Remind us to toss an extra quarter in the pan Sunday morning.
Wonkette the Usurper, lacking the shame to shut down immediately in the face of our withering critique, chose to ignore us. And we don't blame them — "wan fratboy humor" ain't exactly fightin' words. But the Wonkette slipped something intriguing into that Twitter post:
Hey, if some VC wants to buy Wonkette.com and, uhm, save it (if possible?) I know an alum who might help.
Lightning in a bottle, perhaps. But if somebody publishes a coffeetable commemorative twenty years from now, we'll buy it.
Add a Comment
Please
log in
to post a comment