Finally, a Recession-Proof Industry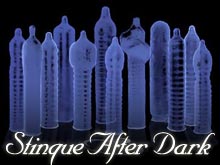 With gambling and booze in the tank, our economic collapse seems to be undermining long-held assumptions about safe investment bets. But one business appears to be thriving amid the gloom:
Designer sex toys.
These aren't your mother's dildoes. Popularized by Sex and the City's Rampant Rabbit, we're talking about three-figure equipment for your two-finger needs.
Like the Lindsay Lohan-endorsed gold-plated vibrator, a steal at Jimmyjane for only $325.
Or Myla's Bone, from furniture designer Tom Dixon, yours for only £199.
Or for the environmentally conscious pestorker on a budget, there's Coco De Mer's Paul Seville Feather Tickler at $75. (And with the change, you can pick up a copy of Pablo Neruda's Twenty Love Poems and a Song of Despair — that last part curiously left unlisted on their site.)
And how could we leave out Sh! of Sweden's £56.99 Lelo Liv rechargeable vibrator, with variable speeds and a Buzz Rating just short of "Wowser!" If Saab folds, the factory can always be retooled.
"They're small, they're classy, they feel nice — and they don't look out of place alongside an iPhone in a Burberry handbag," says "maternity sex expert" Rachel Foux.
Just be sure you don't confuse them. None of the sex toys are 3G-enabled, and the iPhone vibrator barely rates a "Very Gentle".
Add a Comment
Please
log in
to post a comment