Exit, Pursued by the Border Patrol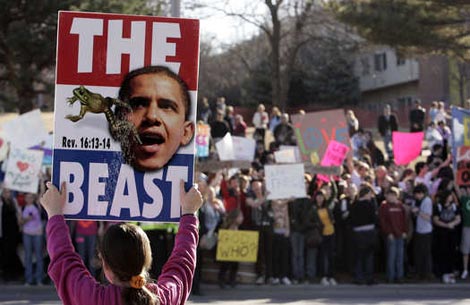 Fred Phelps and his Westboro Baptist Clown Troupe attempted to take their traveling salivation show to England this week, where they planned to protest performances of a play about Matthew Shepard. But authorities were not amused by the rude mechanicals, putting them on the next flight back from Heathrow.
"Both these individuals have engaged in unacceptable behavior by inciting hatred against a number of communities," said a U.K. Border Agency mouthpiece. "The government has made it clear it opposes extremism in all its forms."
Instead, the bumptious buskers had to make do with a street performance Thursday outside a high school in Prairie Village, Kansas. Their new show, "With a Frog in My Throat," drew an audience of hundreds.
Add a Comment
Please
log in
to post a comment