If the Shoe Doesn't Hit, You Must Acquit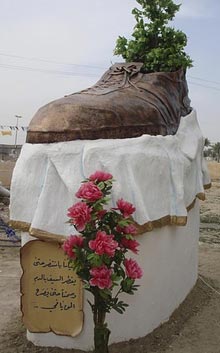 World hero Muntathar al Zaidi faces trial in Baghdad this morning on charges of throwing truth to power, or as Iraqi prosecutors call it, "assaulting a foreign head of state".
Zaidi has been kept in custody since December 14, when he greeted George W. Bush as a liberator. His lawyer reports that Zaidi has been beaten, presumably by American journalists enraged that he went off script. Conviction could bring a fifteen-year sentence.
Whatever Zaidi's fate, all that remains of his world-historical shoes is videotape. Police destroyed the Freedom Footwear after testing for chemicals and explosives.
Add a Comment
Please
log in
to post a comment