Snowzilla Spawn Terrorize Anchorage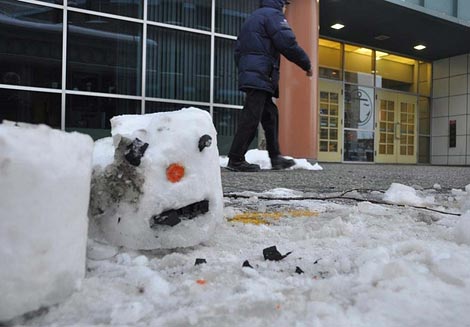 Bristol's bastard is now a week late, and the relation of the Devirgin Birth to local supernatural events can no longer be easily dismissed.
First the Talibunny Tabernacle spontaneously combusted. Then the 25-foot pagan god Snowzilla mysteriously appeared in Anchorage. And now an army of Snowzilla's zombie offspring have surrounded Anchorage City Hall, demanding the sacrifice of the Golden Grandchild else they pelt passersby with coal.
Or maybe it has something to do with the city's vicious smears against the adorable frosty heathen:
They held picket signs with messages like "Heck no we won't go," and "Snowzilla needs a bailout." "Snowpeople have rights," read another….

By Friday morning, remains of the protesters lay in frozen pieces beside the heated sidewalk — a mess of twig arms and coal buttons.
Jackbooted government thugs may have won this round against Snowzilla's ice army. But until that baby drops, Anchorage will know no peace.
Add a Comment
Please
log in
to post a comment