Torched Tabernacle Update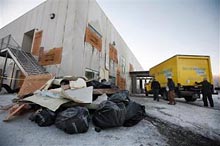 Whoever set Sarah Palin's church ablaze Friday night wasn't taking chances — ATF investigators on the scene have found evidence of "accelerants" (gasoline or something) in multiple locations around the building.
But local fire chief James Steele says nobody knows yet whether the fire was set by terrorists, hooligans, witches, or turkeys. "At this point, there is no information that we have that even points in that direction," he said.
However, federal agent Nick Starcevic did note one discrepancy: the alarm went out at 9:40 p.m. "It's kind of odd to do in the evening hours," he said. "I can tell you that most of the arson fires I've worked on are late nighttime, usually when no one is there." Five women who were inside the building escaped safely.
Meanwhile, online acolyte coven Team Sarah disputes characterizations that Talibunny "apologized" for any role her reputation might have played: "One cannot apologize if they have done nothing wrong, and clearly, Governor Palin did not do anything wrong whatsoever."
Team Sarah did not demand that Muntadar al-Zaidi apologize for stealing focus.
ATF: Accelerant poured around Palin's church [AP]
ARSON At Sarah Palin's HOMETOWN Church [Team Sarah]
Add a Comment
Please
log in
to post a comment