Self-Defense for the Self-Deluded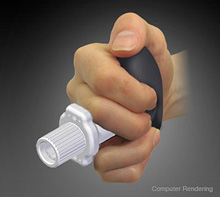 This is a "Palm Pistol". It costs $300. Perhaps because it looks like an inhaler, the manufacturer tried to register itself with the FDA as a "Medical Device Establishment," and the pistol as a "Daily Activity Assist Device," but even the Bush Administration couldn't swallow that one.
So while the pistol missed its shot as the first FDA-approved firearm, it's still being marketed as "ideal for seniors, disabled or others who may have dexterity limitations":
Medical indications for use include but are not limited to arthritis; peripheral neuropathy caused by chemotherapy, infection, traumatic injury or diabetes; phalangeal amputations/fusions/fractures; distal muscular dystrophy; multiple sclerosis, carpal tunnel syndrome, Raynaud's syndrome; ganglion cysts; side effects of certain medications; and inclusion body myositis.
If any of these conditions apply to you, pray that you still have the marksmanship of a sniper: The Pocket Pistol packs only one bullet.
Add a Comment
Please
log in
to post a comment