She's A Lady.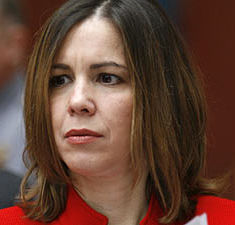 Well she knows what I'm about,
She can take what I dish out, and that's not easy,
Well she knows me through and through,
She knows just what to do, and how to please me.
She's a lady. Whoa, whoa, whoa. She's a lady.
Talkin' about that little lady and the lady is mine.
Meet Patti Blagojevich. Wife of Rod, daughter of one of the most powerful alderman in Chicago, realtor to one Mr. Tony Rezko. And such a potty mouth!
"…hold up that fucking Cubs shit. . . fuck them."
My goodness. My poor delicate ears. To be fair, of the 18 beautiful f-bombs in the affadavit, these are her only two. And actually both Chicago Bureau and I have expressed pretty much the same sentiment on at least a couple of occasions. Maybe that means Patti is born to be a Stinquer after all. Come on in Patti, we won't judge, we promise!  We welcome that sort of thing…
And only 18?  In 72 pages?  I say more than that before I get out of bed in the morning.
Governor's wife supported his pay-to-play Senate scheme, complaint alleges [Chicago Tribune]
Feds Continue Scrutiny of Mrs. Blago [Chicagoist]
Blagojevich and Wife Drop F-Bomb 18 Times in Affadavit [Zimbio]
Add a Comment
Please
log in
to post a comment