Bush Jumps the Gun on Obama Terror Regime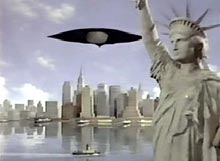 Aren't they supposed to wait for the Inauguration before stripping away our rights? Because how can we blame Barry for the Death of Liberty if Shrub gets there first?
The U.S. military expects to have 20,000 uniformed troops inside the United States by 2011 trained to help state and local officials respond to a nuclear terrorist attack or other domestic catastrophe, according to Pentagon officials.
Call it Red State Dawn, since the scheme has been in the works for years. And yes, it involves FEMA, although apparently not those camps where we'll all be spending quality time after our guns are confiscated by giant DARPA electromagnets.
But here's the weird part: One prominent organization fears this is "just the first example of a series of expansions in presidential and military authority", while another warns of "creeping militarization".
In other words: When the ACLU and the Cato Institute agree on something, you know some nasty shit's going down.
Add a Comment
Please
log in
to post a comment