Hair Today, Gone Tomorrow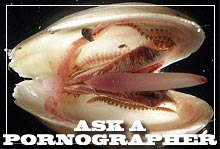 Have a, um, burning question about industrial porn? Shoot it to iporn [at] stinque.com
Will pubic hair ever make a comeback in the adult film industry?
Your question could not be more well timed and the answer is "yes." In fact just this week Hustler announced that they are releasing a film called "The Bush Administration" which will feature nothing but girls with full on muffs. Fleshbot also came out with an entire feature this week on girls with lots of forest for fucking.
The truth is that there is more demand for girls with pubes now than there has been in years, so you should see a lot more of this stuff. The "bare down there" scene was actually sort of an accident to begin with. When Bush stole the 2000 election a lesbian group got the idea to shave off their pubes and mail them to the White House with little cards that read "No Bush" on them. A bunch of girls in the adult industry heard about this and decided to do the same thing. Then when they had their video shoots that week, obviously they didn't have time to grow their pubes back. Producers liked the look — mostly because it made it easier for the tech folk to apply vaginal make up. Then, customers went gaga for it because they'd never seen it before and it became a trend.
But now that almost every girl is bare it's become so mundane that dudes are actively looking for videos with normal pubed girls and the industry is responding. So, we've gotten Bush out of the White House and back in your porn where it belongs.
How did the Porn Industry feel about the election this week?
There were mixed responses. In general they are happy that Obama won, because they figure that it will put an end to the Federal harassment of dudes like Max Hardcore who was recently convicted of seriously bullshit obscenity charges. If a girl can't consent to pee on a guy on camera, what can she consent to? I mean, sometimes a girl's just gotta go!
On the other hand, Proposition K, which would have legalized licensed prostitution in California, got defeated — mostly because the gay marriage thing got all the press coverage and Prop K slipped under the radar. This is bad for everyone. Prostitution will always exist — the only question is can it be made safe for the call girls and rent boys and the customers. Legal, licensed prostitution means that the sex workers don't need pimps and have much more incentive to insist on condoms — since they will get tested regularly and even the most mild STD would be enough to bounce your license.
Plus, legal prostitution discourages street trade, which is where the really bad shit in hookerland happens. Beyond that, the law in California is really hypocritical now. If I rent a camera and hire a girl to have sex with me in front of the camera and then post that video on the Internet for profit — that's legal in California. But, if I pay that same girl for the same sexual acts, but don't film it, that's illegal. Riddle me that, Mr. Terminator? Beyond that, California is facing a budget crisis — imagine how much state revenue in sales taxes and licensing fees could have been generated?
The adult industry is also pissed off that bowing to federal pressure, Craigslist is now going to make sex workers provide a valid credit card when they post ads in the Erotic Services section. They think this will discourage Craigslist prostitution — because the FBI would be able to subpoena the names of the girls and boys anytime they want. What will really happen is a couple of dumb college boys and girls who haven't figured out the change will get busted, while all the smart ones will simply post in Casual Encounters.
Can porn ever really be considered "educational?"
Yes. And I wish Dan Savage would watch some and learn something. Recently he wrote a column where he said that vaginas look like "spam." If he ever watched a straight porn tape he'd learn that he was wrong.
He also insists that male bisexuality doesn't exist. If he looked around the porn industry and noticed the thousands and thousands of examples of bisexual written erotica and video porn he'd realize just how fucking wrong he was. A dude isn't going to pay money to watch male bisexual erotica if he doesn't want to see dick and pussy. And if bisexual males didn't exist the porn world wouldn't bother marketing to them. You can lie to your friends about what your dick wants, but your video clerk knows the truth.
Add a Comment
Please
log in
to post a comment