Talibunny Checks Psychogeezer & Begins Campaign to Establish Theocracy in 2013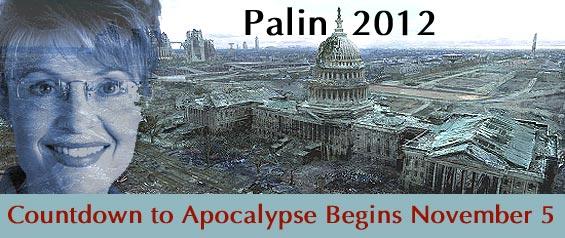 The Talibunny is a self-made agent of apocalypse straight from the twisted, beer-sodden imagination of Stephen King, a Jesus-crazed Wal-Mart ayatollah bent on the conversion of America into a theocratic dystopia and, finally, a wasteland incinerated in the advance of her apocalyptic fervor exercised in the pursuit of biblical Rapture.
The Talibunny knows that God reveals His plans in mysterious ways though it is obvious to her now that He hath delivered unto her unto a failing, deceived campaign that would provide nothing more – and nothing less – than a pulpit from which she would launch her own own 2012 campaign for the White House.
Everyone's initial fears – Psychogeezer would win and she'd strangle him in his sleep and punch the launch codes as soon as the Attorney General certified invocation of the 25th Amendment – have abated now that Psychogeezer's crusade of hatred and rage has succumbed to its own ambivalence and incompetence.
Still, transforming Psychogeezer's tactical move in appointing her his running mate into a strategy of self-promotion for the 2012 GOP nomination comes as naturally to the Talibunny as dropping moose with a hunting rifle. It's clear to observers inside and outside the campaign that McCain is being stalked by the Talibunny – and his resources, as well as that of the RNC's, are being assessed for a Talibunny presidential bid.
Reporters are picking up on the menace that the Talibunny is projecting at the old man who stands between her and ultimate power. NBC's Chuck Todd picked up on the Talibunny's resentment of the confused old man, according to a recent Los Angeles Times "Show Tracker" column. The signals of an ambition thwarted and impatient were clear to Todd:
It's a negative intensity — I don't know how else to describe it. You'll see, when you see the two of them together, the chemistry is not all there. You do wonder, is John McCain starting to blame her for things, blaming himself? Is she blaming him? … But whatever it is, it's a negative vibe that you get in that room…

I can't emphasize enough the odd body language. I know Obama and Biden don't have the great chemistry yet, but there seems to be some chemistry. I didn't see any chemistry here. It very much feels forced, and you almost wonder, maybe it's the intensity of the moment. They know they're down, you have no sleep at night. You need that idea that you can win to keep you going. … You almost wonder why they wanted the two of them sitting next to each other. …
No doubt, the Talibunny is fantasizing freely about taking down the Psychogeezer with a Bushmaster over/under. It is the way of the Talibunny: Make league with potent and accessible political players; charm them; use them to advance her political career; betray them; repeat. It's a scheme that the Talibunny has played out at every stage of her career. according to a profile this fall in Salon, the online magazine. She had to move up or out of Alaska politics because there was no one left in the state to stab in the back.
Meanwhile, the brainier of the Psychogeezer campaign stalwarts are figuring out that the Talibunny is playing the Paleo- and psycho-conservative base against their man, according to a recent column by Mark Ambinder at theAtlantic.com. Ambinder wrote this week, "And if she wants the job, she's easily the frontrunner to become THE voice of the angry Right in the Wilderness."
Talibunny knows this. She experienced her potential to be Commander and Chief of the Adkisson Brigades at the Minnesota GOP convention and at rallies in southern states this fall. At those events, she inspired and basked in a delicious surge of raw, animal hatred and racist terror. It resonates through her like a coloratura soprano leading the finale of a colossal opera of despair and rage. It is simply impossible for an opportunist of this wit and will not to attempt to cash in on her talent for inciting riot, like a certain beer hall political operative who dirtied western civilization's history books in the last century.
A desperate and demoralized GOP, reduced to a rabble of toothless pigfuckers and halfwit 'thought leaders' like Newt Gingrich just may embrace a candidate who could put big tits and a winning smile on a fascist theocratic platform.
Better, the Talibunny could provide a figure head for Jesus-crazies, neo-confederates, militiamen and survivalists – the Adkisson Brigades – giving the RNC an easy mechanism by which to besiege the Obama presidency, denouncing him as a terrorist/Marxist/socialist/Muslin on Fox News 24/7 and organizing false-flag domestic attacks in an attempt to drive a terrorized population screaming back into the arms of the fascists in 2012.
We'll see if the RNC and Talibunny have the wisdom to forstall the spontaneous devolution of the GOP into a fanatical cult animated by fear, rage and political violence.  The party set itself up for this final act with its Southern Strategy begun in earnest in 1980 campaign, de-emphasizing the cultivation of the Catholic vote for the evangelical crowd in the southern states, fine by party stalwarts as long as the GOP nominated white WASP males.
Now that the party is faced with a bible-believing candidate of formidible popularity who is actually from the ranks of Jesus crazies and pig fuckers, the RNC establishment will have to serve as willing accomplices to the near spontaneous re-organization of the GOP into a cult (Scientology was an exception in that it was purpose-built from scratch) made up of functionally insane fanatics who would destroy the country, if not western civilization.
Talibunny's personal psychology and history in the evangelical movement blind her to the unwholesome social and poltical dynamics in which she is a central player – as much as they have any cult leader at the moment of social catalyzation that transform a sense of common purpose into a molevolent movement.  The predictable group dynamics that will inspire legions of vocal followers to rally behind her candidacy, Talibunny will misinterpret as god's approval – like all cult leaders before her.
We do hope that after the Atwater and Rove epochs, which succeeded on their ability to sow division and fear, there is still some adult supervision left in the party, because the crowd that is forming up around the Talibunny aren't just cynical gangsters on the make for the next campaign and the next buck. They're true believers. They're armed. And though chances of Talibunny prevailing are not great, a White House run based on rallying the Adkisson Brigades wouldn't leave much to fight over.
Add a Comment
Please
log in
to post a comment