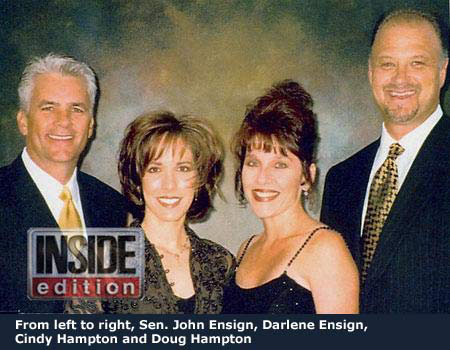 It seems my concern that the John Ensign sex scandal would fade into the background was misplaced:
Doug Hampton spoke publicly for the first time today about the affair his wife had with Sen. John Ensign, saying the Nevada Republican continued his pursuit even after intermediaries tried to get him to stop.

Hampton said that Sen. Tom Coburn, R-Okla., and others urged him to end the affair and help the Hamptons pay off their home and move to Colorado. But Ensign was so infatuated that he continued, Hampton said.
You can watch the first installment of Hampton's interview here – it's positively cringe-inducing. Among other things,  we learn that the estimable Senator Coburn made Ensign send a letter to Cindy, the object of his affection, telling her that their invisible sky god didn't approve of them having sexytime. Unfortunately, Ensign was  back fucking her the next day – he even called her and told her the letter was coming and to ignore it.