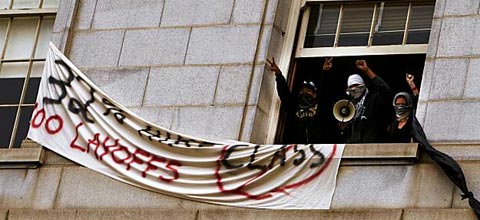 Person the barricades! Berkeley students take over campus building! Copy editors on strike!
"We decided it was necessary to take action," said Walden, a Middle Eastern studies and political science major. "A lot of people have been saying, 'Who's university? Our university.' So we decided to put that into action."
Mind you, that "who's" required three bylined reporters.
So, what's the ruckus about? California faces a gazillion-dollar deficit, and among the many unpleasant consequences, tuition's going up 32 percent. So of course blockading a building is the rational response — "rational" here meaning they brought in enough food and water to last through four days of moral preening.