There'll Always Be a Berkeley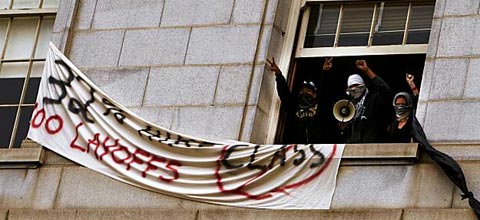 Person the barricades! Berkeley students take over campus building! Copy editors on strike!
"We decided it was necessary to take action," said Walden, a Middle Eastern studies and political science major. "A lot of people have been saying, 'Who's university? Our university.' So we decided to put that into action."
Mind you, that "who's" required three bylined reporters.
So, what's the ruckus about? California faces a gazillion-dollar deficit, and among the many unpleasant consequences, tuition's going up 32 percent. So of course blockading a building is the rational response — "rational" here meaning they brought in enough food and water to last through four days of moral preening.
"Freshman Magali Flores, and ethnic studies major" (our j-school prof would murder us), explains what's at stake:
"It's horrible, how could they possibly do this?" she said of the fee increases.

Flores acknowledged the increase would not affect her because her family earns less than $70,000, and tuition remains free. However, she said that she's already in debt from cost of living, registration fees, and books, totaling $10,000.
Which comes to — hold on a sec — $833 a month. Including rent.
We're staunch supporters of accessible higher education (which was a lot more accessible when we were in college), and as a transplanted Californian, we think the tax system here is a fucking joke, going back a generation. But if you're going to attend the state's flagship university, is it too much to ask that you be a tad more intelligent about your protests?
UCB Protest [Twitter]
Add a Comment
Please
log in
to post a comment