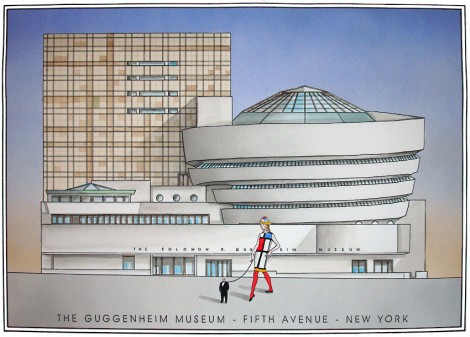 This is the Guggenheim museum in New York City.  It will turn 50 years old in October. Also, it recently underwent a complete exterior restoration.  It looks great, but I have no idea about the inside. When we went today to see the exhibit associated with the anniversary, the line was around the block.  Even the line to renew my lapsed membership was long, so we'll give it a try closer to the end of the exhibition, August 23, 2009.
This is what the museum looked like for the better part of four years: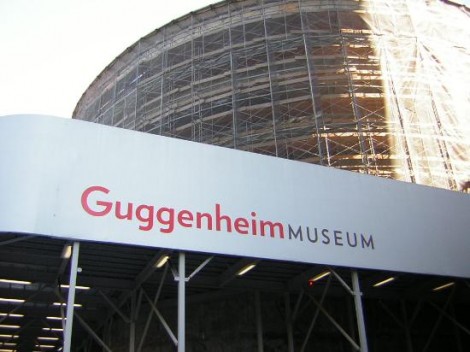 When the location for the Guggenheim was announced in the forties, Frank Lloyd Wright famously said that his museum would make the nearby Metropolitan look "like a Protestant barn".  The museum opened on October 21, 1959.  Wright did not live to see it finished as he closed on April 9, 1959, aged 91, never to reopen. Here he is standing on the deck of the unfinished building sporting his trademark porkpie hat.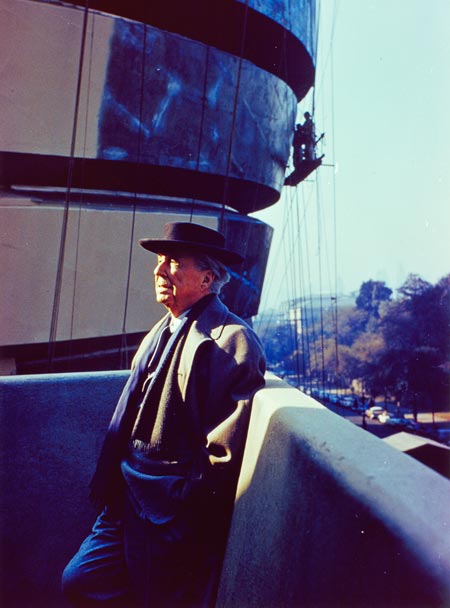 Wright was a monumental asshole.  I spent some time in Spring Green, Wisconsin, where Wright lived for most of his life, and there I met people who claimed he still owed their families money.  No doubt he was a genius, but he treated everyone around him like shit.

I have been lucky enough to see lots of Wright buildings.  Although the Jacobs house is privately owned, I knew someone who knew someone who got me in while the owners were away.  It is simply the most brilliant small house I've ever seen. It shows Wright's characteristic lack of interest in kitchens, but otherwise it's perfect.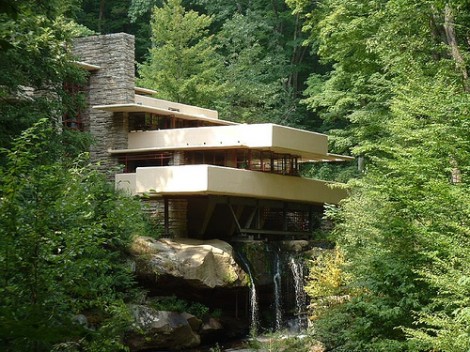 I have been to Fallingwater five or six times.  It has to be experienced, but I can tell you it is certainly Wright's masterpiece.  It has been said that the sound of the water makes it trying to live in, but I can't imagine not being serenely happy there.  An example of Wright's affinity for nature can be found in the color of the cantilevers.  If you pick up a leaf that has fallen from one of the many rhododendrons on the property, and turn it over, you find the cantilevers are the same color as the underside of the leaf.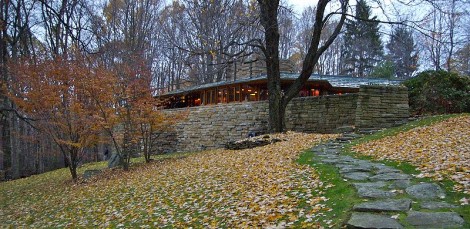 Kentuck Knob is a ten minute drive from Fallingwater.  Designed in the fifties, it's my favorite Wright floorplan.  Built for the owner of a dairy, it's one of the few Wright houses that doesn't have his signature Cherokee red concrete floors.  The owner, Mr. Hagan, fought with Wright because as a dairyman, he'd been around red-painted floors all his life.  He won – Wright agreed to install slate floors. But Wright, who got pissy when people rearranged the furniture he'd designed for the house, "client proofed" the Hagan house – the doorways are too narrow to allow the furniture to be moved out of the room.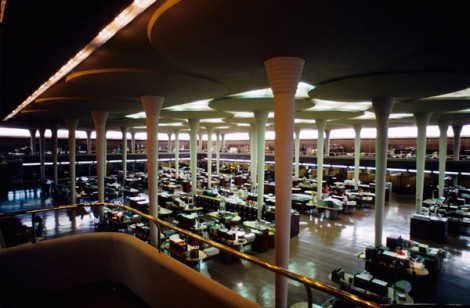 I have also toured the Johnson Wax Building. It's magnificent – sitting in the main room, you feel like you are in a sunlit glade, not an office.  When the roof of the new building leaked in Herbert Johnson's office he called Wright, furious.  Wright said that a large company like Johnson Wax would certainly have wastebaskets that could catch the drips and hung up.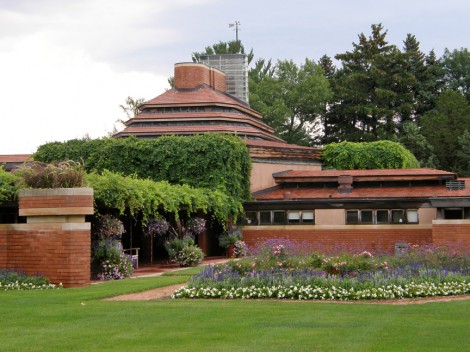 A half-hour drive from the Johnson Wax Building brings you to Wingspread.  Having learned nothing from his first encounter with Wright, Johnson engaged him to build a mansion.  When the roof began to leak during a dinner party, Johnson again called Wright, furious.  Wright suggested that Johnson move his chair.
Touring Wingspread today isn't as interesting as touring the other homes, mainly because its been turned into a conference center.  Still, I had fun when the curator let me climb up into the cupola and shoot some photos.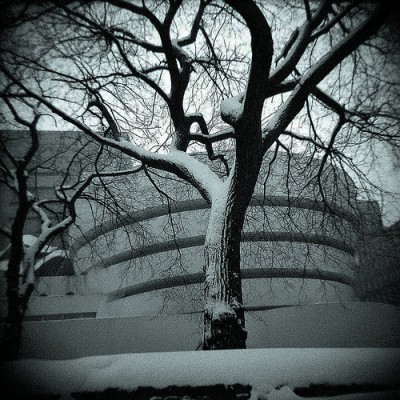 This is a photo I took back in 2003.  It took me twenty minutes to get it, and I almost lost two toes.  This photo is testament to my belief that the Guggenheim is this country's most dignified, beautiful public space.  But who knows, that view might change – I have lots more Wright buildings to see before I rest.
Mike Wallace interviews FLLW eighteen months before his death:
Add a Comment
Please
log in
to post a comment