I Told the President to Fuck Off in Front of My Kids, and Now Everybody Hates Me for Some Reason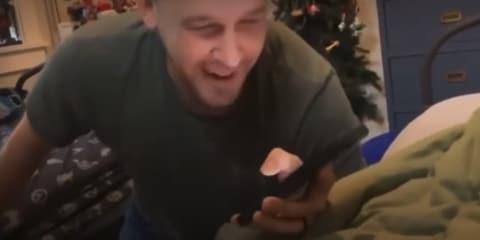 We take a fancy to this one, because, well, Oregon, particularly southern Oregon, land of hardy crackpots and survivalists. If, like us, you're from hippieville Eugene, anything south is another country.
So, Central Point dude, father of four, calls the NORAD Santa hotline—
Wait, NORAD has a Santa hotline?
Okay, love that too. We loved hearing the NORAD Santa Tracker reports on the radio growing up, and we loved them even more when we later learned what NORAD was. Careful, NORAD! Don't nuke Santa!
So this year, The Preznident of These United States happens to be taking your Santa calls — hey, we can all use a break from Joe Manchin — and American Citizen Jared Schmeck interrupts his delighted children to say a hearty "Let's Go, Brandon!"
Oh, yeah, third thing: That one's MAGA code for "Fuck Joe Biden!" Long story.
The Leader of the Free World (by default, now that Angela Merkel has retired) hasn't heard that one yet, so he takes it in stride. But it lands for its intended audience — on Twitter — and takes off from there.
Dude's no Stephen Colbert, but give him points for trying.
Then take them away, because he's a chickenshit sumbitch.
Because — golly! — turns out some non-MAGA types also know what it means, and are none too happy. Especially after Jared turns to the state newspaper to whine about the consequences of exercising his God-given freedom of speech. Hahaha! Just joking, sir!
A joke Jared's wife made a point of posting on Instagram — with not one, but two emojis crying with laughter — and that he made certain to tag #letsgobrandon in the title of his YouTube video of the call. That kind of joke. Sure feels different when you're not coddled for it!
So that's it, that's the story, the story of a humble Oregonian who had his shot at greatness, then pissed all over it. And speaking as someone who grew up there before Portlandia, before Nike, before our hometown university bought a nationally recognized football team, a state we used to call "the one above California", well, that's just the way it should be.
Add a Comment
Please
log in
to post a comment