Day 15,260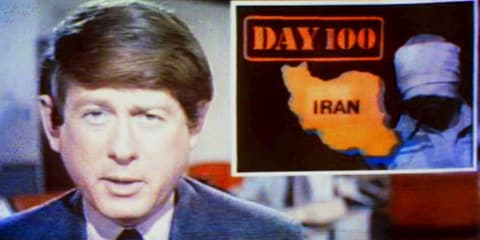 When we were in college, in the late Seventies, there were some Iranian students on campus as well. They were easily identifiable — by their Trans Ams, went the joke. Oil money, y'know.
But they weren't all spoiled rich kids. Some took the opportunity of being outside their country to protest conditions within — conditions of living under the Shah. Such protests weren't casual. They covered their faces with masks. The SAVAK — the Shah's secret police — might be watching.
Being young and American — and in sleepy Eugene, Oregon, no less — we didn't understand this at first, the ostentatious precaution of it. And Eugene being a hippie mecca — Berkeley North, we joked — the masked Iranians were just one protest group among many, a sideshow, really, part of the ongoing campus circus.
That all changed our junior year — November 4, 1979, to be precise. The day the Tehran embassy was overrun.
We were 20, and we had learned a few things by then. The revolution had been in the news for a year, and the Shah himself had fled the country in January. The Ayatollah was now a familiar figure.
Less familiar, if you just watched the news, was the backstory: How Iran had a democratic government in 1953, how the CIA backed a coup against that government, how America — Us! — had propped up the Shah ever since.
The Iranian students on campus in their masks would have known that. And had we listened to them at the time, we would have learned it earlier, that our own government shared responsibility for their plight. But by the time the embassy was stormed, we damn well knew.
And then, everything went south.
In the news, the backstory — the very context — was irrelevant. Now it was the embassy personnel with the masks, and that was all that mattered. Roone Arledge, the ABC Sports guru, the Up Close & Personal guy, who had recently taken over the news division to derision from Doonesbury among others, launched a late-night series of specials called America Held Hostage, with an unknown spare correspondent as host. Every night, Ted Koppel would count the days since the standoff started, because now hyping the immediate drama was the only thing that mattered.
(He was far from alone — Walter counted, too — but Roone & Ted made a brand out of it.)
The Rest of the Story isn't just how that context-free jingoistic festival would find a permanent slot as Nightline. It's not just how Saint Jimmy, badgered by Day This and Day That, launched a desperate rescue mission that we were damn sure, sitting in our dorm room that night as the news broke, would soon get us drafted into a new Vietnam. It's not even how Ronnie committed treason against our government by making backchannel arrangements to delay their release until his inauguration.
It's how we, as a nation, ignored everything but the event itself. It's how we've repeatedly done that since, more than forty years now, turning a blind eye to the harm we cause to people around the world, then being shocked — Shocked! — when they have the audacity to resist, violently so, after all civil means of resistance have been violently precluded.
It's how America became the Great Satan through our own hubris and blindness. It's now Day 15,260, and we've never learned. We've only made things worse.
Our enemies never hated us for our freedom. They hated us for crushing theirs.
Add a Comment
Please
log in
to post a comment