Canary in the Cold Mine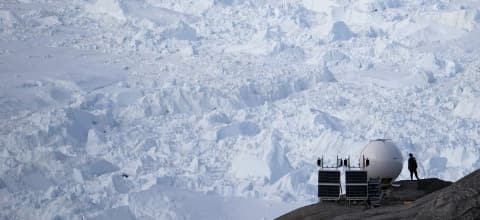 It's raining in Greenland.
This may not surprise you, rain being something most of us are familiar with. And really, some places we know could use more of it. Those evaporating California reservoirs, say. Or the Colorado River.
But what makes it noteworthy, perhaps something we should pay attention to, once we're done fretting over the loss of a sliver of the American Empire, is that it's raining in Greenland where it never rains in Greenland. Ever.
Because it's usually too damn cold.
Summit Station sits 10,551 feet above sea level, which would put it in the neighborhood of the American Cascades. It also sits atop the world's second-largest ice sheet, after Antarctica. How much ice? Enough to raise oceans: Since satellite tracking began almost thirty years ago, sea levels have gone up 2.6 inches. Greenland's melting glaciers account for a quarter of that.
Here's something you may not know about snow: It's white! Which is interesting, because white reflects sunlight, the difference between walking barefoot on a cool concrete sidewalk and crossing that blazing asphalt street. The Greenland and Antarctica ice sheets, despite so much surface area exposed to sunlight, also hold their own against it.
To a, uh, degree, of course.
Rain — we hope you're taking notes — isn't white. It's darker than snow! And when rain falls on a glacier, it catches some rays as it spreads. Which — this is truly fascinating — helps melt the glacier.
And, if you're familiar with gravity, or any Disney nature film, that melted water goes down, eventually into the ocean, which then goes up.
In addition to the ocean going up as water gets warmer, because — you can try this one on your stove — water expands with heat.
Or if you're patient you can just watch Florida slowly sink into the sea. If you need a visualization, last month Greenland lost enough ice to cover Florida in two inches of water. In one day.
Not a personal best, as it happens. Just its third-highest single-day melt. The other two? 2012 and 2019.
Which is to say, other than rain falling for several hours where it hasn't before, none of this is new. We've been hearing predictions for decades, seeing results for years, and now, suffering consequences.
But the news the past week has been all about the miserable end of a failed imperial war, with American elites fretting about its consequences to our global reputation. Critics — like us! — have called it a Forever War.
We still have one, as it happens. It's the Global War on Climate, it's going to last for centuries, and sadly, we're winning.
Add a Comment
Please
log in
to post a comment