The Biological Civil War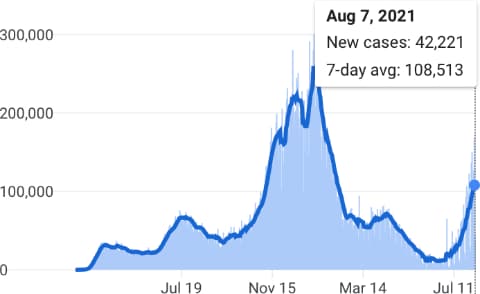 In the past week, covid cases in the United States reached an average 100,000 a day.
Again.
We've been there before: Last November, going up, and last February, coming back down. As recently as June — five weeks ago — cases were almost a tenth of what we're seeing now.
And looking at what's going on out there in this glorious blighted land of ours, we don't see what's going to stop the numbers from continuing to shoot skyward.
The brief Republican flirtation with reason and responsibility has passed. Forbidding and flouting safety measures while casting blame on brown people is much more politically lucrative than just recommending people get those free shots. Thanks to them, "breakthrough cases", vaxxed people catching a variant, has now entered the language.
And that's just the Delta Variant. Plenty of room in the Greek alphabet for more! Have you heard of the Lambda Variant? Maybe don't google it.
Those variants are Darwinian opportunism at work, taking advantage of the willing petri dish of humanity to evolve more powerful attacks against us. The mitigating effects of vaccination against Delta are being demonstrated daily — still an achy, taste-depriving bitch, but you're not automatically headed for the ICU — but those freedom-loving Republicans are determined to provide a test bed for even worse.
It's a biological civil war, really, and they're wielding weapons of mass destruction. Maybe they'll die off more quickly, but that just makes them suicide bombers against the rest of us, determined to inflict maximum casualties before they see us in Hell.
And it's still summer. That last infection surge didn't happen until November. Didn't even have a vaccine last year.
Not sure how long this one's gonna hold either, not with all those killer gangs of infectious white people roaming the streets. They're animals, you know. No value for human life.
Add a Comment
Please
log in
to post a comment