Who Tells Their Story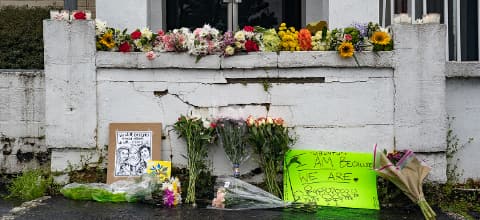 The first thing white people did upon hearing about the latest slaughter was to argue whether it was racist.
You'd think that was a no-brainer: While male murderer, Asian female victims. You'd think, after a year of a racist President racializing a pandemic, after reports for months of random attacks on Asian Americans, something like this would be easily, if sorrowfully, understood.
You'd think that. Unless you were white, apparently.
We don't understand, being white ourself, why that's a hard one. There's a lot we've grown to understand about being white in America, especially during the past few years, but this one escapes us. There's a palpable need to argue this away, to deflect it into something else, as if there's something at stake to be lost if we grant that yes, this one's racist, too.
It's not like there isn't a history here, from the railroads through internment camps and on. It's not like this hasn't persisted into our lifetime, when Mickey Rooney donned his buck teeth and went for it.
Maybe we thought we had gotten over this one? Maybe after declaring Asians a Model Minority back in the Eighties, we thought we could scratch that off the list? Look how smart they are! Must be the Tiger Moms.
And rich! You know, like that movie! Crazy rich!
Maybe that's what's at stake: Realizing that if we can still be as racist toward Asians as the darker hues in the Crayola box, maybe we haven't learned a damn thing.
Maybe the Model Minority thing itself was a dismissive scam.
Maybe we wypipo are as fucked up by our hegemony as we've always been.
That's the privilege we hear about: the privilege of rank in a demographically hegemonic society, a privilege so thorough we're surprised to learn new details about it, the multitude of things we take for granted that others are all too aware of.
Among those privileges: We get to have serious arguments whether a racist slaughter is really racist. Because who's to say, if not us? We start letting other voices in the room, other voices from other backgrounds with other experiences, and fuck, we might have to start changing things, y'know? Can't have that!
For starters, we may no longer have the last word. Our story may no longer be the defining one, the standard of storytelling. Other stories, from other people with other backgrounds and other experiences, may be just as legitimate, even more so, if their stories are more relevant to the event at hand than our abstract judgment of the necessary conditions of racist animus.
In other words, we lose our grip on society, a grip centuries in the making.
Was the slaughter racist? You know what, have that argument. Because if you want to show what a failure we white folk are at running this joint, you're doing a fine job of it.
Add a Comment
Please
log in
to post a comment