A Flock of Bernies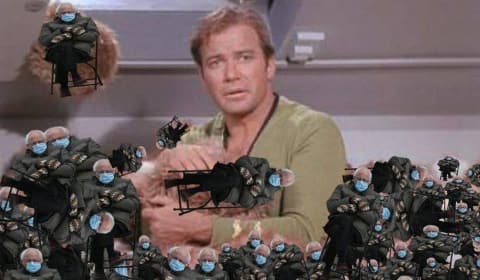 Then came a quiet morning when Mr. Biden opened a door on the north side. A warm draft of rising air blew softly through the Capitol cellar. The baby Bernies felt the warm updraft. One Bernie climbed to the top of the security fence. Then it did something that came as a great surprise to Wilbur.
The Bernie stood on its head, pointed its mittens in the air, and let loose a cloud of thick yarn. The yarn formed a balloon. As Wilbur watched, the Bernie let go of the fence and rose into the air.
"Good-bye!" it said, as it sailed past the Washington Monument.
"Wait a minute!" screamed Wilbur. "Where do you think you're going?"
But the Bernie was already out of sight. Then another baby Bernie crawled to the top of the fence, stood on its head, made a yarn balloon, and sailed away. Then another Bernie. Then another. The air was soon filled with tiny yarn balloons, each balloon carrying a Bernie.
Wilbur was frantic. America's Bernies were disappearing at a great rate.
"Come back, Bernies!" he cried.
"Good-bye!" the Bernies called. "Good-bye, good-bye!"
At last one little Bernie took time enough to stop and talk to Wilbur before making its yarn balloon.
"We're leaving here on the warm updraft. This is our moment for setting forth. We are ideas and we are going out into the world to make content for ourselves."
"But where?" asked Wilbur.
"Wherever the Internet takes us. High, low. Near, far. East, west. North, south. We take to the breeze, we meme as we please."
Add a Comment
Please
log in
to post a comment