Block the Vote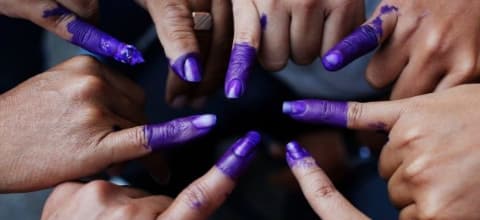 Here's how elections work: Votes are cast, ballots counted, winners declared, the Republic endures.
Oops, we're sorry. That's the Schoolhouse Rock version.
That elections — our elections — don't work like a simple cartoon, or a Capra movie, or a high-school civics class, well, that's a problem, isn't it?
Challenges to our most sacred rights as citizens aren't new, by any means. Denying the vote is in our founding document. Women's suffrage is only — just now — a century old. Voter registration itself was conceived as an exclusionary tactic, and Florida has just revived poll taxes under the guise of making felons pay up first.
Florida citizens didn't vote for that.
And of course there's also gerrymandering, and voter ID, and strategic limiting of polling locations, and everything else we were already looking forward to six months ago, in the Before Times.
It's a perverse testament to how fundamentally powerful voting is, that folks will do everything in their power to prevent it. What should be Schoolhouse Rock plays out like Mad Max.
We should recognize this, see it for what it is. There's politics, and there are sustained assaults against the fundamental rights of citizens. We should appreciate the difference.
"More voters than ever will vote by mail in November," reads the Politico reporter's tweet, "and Democrats are waging a two-front war: In court cases across the country, and in a rapidly-changing voter contact program. A close election could hinge on its success."
A "close election". Y'know, that's not what we're talking about. We're not talking about a nailbiter 50-50 vote split, the result unknown until the final ballots are counted in the wee hours of the morning, or, as is more customary these days, the weeks ahead. Donald Trump is not going to win. He didn't win the last time. He's likely to lose by significantly more than 2.9 million votes this time.
That is, if every citizen votes who wants to. And all our ballots are counted.
That's why Trump's minions are monkeywrenching the mail, of course. Especially in Democratic areas. He can't win outright, so he seeks to sow confusion, cast doubt upon the legitimacy of the process.
This isn't politics. This is a slow-motion coup, carried out in plain sight. This is an attack on the Homeland.
And the thing is, he just might pull it off.
The Politico story itself does a fair job outlining what the Democratic Party is doing to forestall that outcome, getting out the vote in sufficient numbers despite the obstacles — the deliberate obstacles — to create a margin of victory beyond doubt.
"The best strategy to prevent Trump from casting unwarranted shade on the results of the election is to win in a landslide," says the Wisconsin party chief.
Which is a polite way to put it.
Which also illustrates the problem.
Shit ain't being seen for what it is.
It won't just be Trump casting shade. It will also be Fox News. It will also be craven Republican officials, the traitors who looked the other way the last time our elections were assaulted, and who benefited from the assault.
And then Establishment Journalism will both-sides the hell out of it. Set Fox aside: We're looking at weeks — months! — of CNN, the Times, WaPo, all of them, buying into it, broadcasting the engineered illegitimacy to the nation as yet another political issue, perhaps a Constitutional Crisis, but not what it is.
Until the stacked Supreme Court weighs in, of course. Again.
All because we lack the clarity of Schoolhouse Rock: That votes should be cast and counted, and anything that gets in the way ain't democracy, but tyranny.
Add a Comment
Please
log in
to post a comment