The Horror, The Horror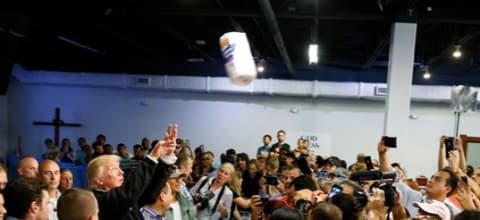 You run out of things to say after awhile. Anything new, anyway. That thing you're thinking of saying, you already said it, what, two years ago? Three?
"Donald Trump spent the weekend at one of his resorts after Puerto Rico's infrastructure was devastated." We said that almost three years ago. Iowa's been dark all week. Trump went golfing again.
Here's something new we can say: It's not just Brown people any more.
But at least that's a natural disaster. Trump's been demolishing the post office without divine assistance. Part of this is a longtime Republican dream to put a public service in private hands, where profits can be made. More immediately — well, you know that part. The easier it is for people to vote, the easier it is to vote against him.
See the past ten years of American history for more information. Or the past 230.
But in this latest attack on American citizenship, there's a new twist: It ain't just ballots. A lot of stuff still gets mailed in the Internet age. Bills. Payments.
Medicine.
You fuck with the mail, you fuck with people's lives that way. Not that the fuckers care. But we already know that. The cruelty is the point.
Oh, you thought that only applied to other people, didn't you? Check in with Iowa how well that works.
Or ask 172,639 Americans. Whoops! You can't!
The shit just keeps piling up, and you run out of things to say.
We haven't read Conrad. We know the line, that line, from the movie, from Brando. We can't find her review now, but Pauline Kael said the movie failed in the end, failed to capture the thing it tried to express, failed because the thing it tried to express was beyond capturing. You can't say it. You can't show it. Evil isn't a thing in the world like that.
Conrad himself, well, here's how he presented it:
"Anything approaching the change that came over his features I have never seen before, and hope never to see again. He cried in a whisper at some image, at some vision — he cried out twice, a cry that was no more than a breath: 'The horror! The horror!'"
We've been quoting that line for years — ironically, of course. Find a random annoyance, drop Brando on it. The refrigerator's broken this week. They're putting out another Batman movie. Cockroach in the bathtub! Never fails.
Forty years of that, horrorshowing everything we can, because the shit that really sucks, we've had plenty of words for that.
Until now. We've run out of things to say, and that's all that's left.
Add a Comment
Please
log in
to post a comment