The Condition We're In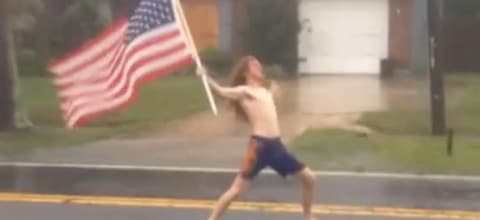 Once more, for the next civilization: The way to get through this is massive testing, hotspot identification, contact tracing, and targeted isolation. Get all that up to speed, and we can live what passes for normal lives.
We aren't doing it that way.
We're flying blind.
We'll be flying blind for the duration.
We're on our own.
We're still learning things as we go. Transmission seems primarily via spittle — the CDC isn't yet ready to say you can stop washing your hands like Lady Macbeth, but they're not stressing over surfaces like they did at first.
It's close personal contact that'll get ya, so keep yer distance and avoid crowds — which accounts for god knows how much of our lives and economy. Because we're flying blind, every trip to the store will remain a thrilling masked adventure, and trips anywhere else should require a signed release and living will.
For those of us paying attention, anyway.
For the rest, well, shit's gonna happen. Maybe not in grand flulike waves, but anywhere people gather and drip on each other. Businesses that rely on packing 'em in like sardines, from factories to bars, will be affected. Many will close, because people aren't coming, or the people who work there keep getting sick.
It didn't have to be that way, but that's how we're doing it. At least through next January. And after eight more months of this, it's not like President Joe can whip up a recovery on Day One. Best-case scenario is that 2021 is shot, too.
Even with a vaccine.
There will be no American Reopening. Restrictions can be relaxed or dropped, but people are gonna vote with their feet, if the virus doesn't vote for them. For all the noise about white people being consigned to Nazi death camps because they can't get a haircut, they're not the majority of us, and this is one vote they can't rig.
We won't be going to restaurants. We won't be going to the movies. We won't be going to games. We won't be going out.
Some will, perhaps many, but not like we did before. Not in numbers sufficient to support those businesses that relied on those numbers as recently as January. It ain't over till it's over, and it ain't over yet. It won't be over for a ling time.
It could have been, but we're not doing it that way. It was never going to be easy, but we've done everything we can to make it as hard as possible, and we'll continue doing exactly that for the foreseeable future.
Back when the world was first coming to grips with the virus, an eighteen-month vaccine timeline was published: a year for testing the candidate, the rest for manufacturing and distribution. We took solace in that — even if the clock hadn't started yet, there was a clock, there were procedures. The ride may be bumpy, but if we took care of ourselves, we'd collectively get through it.
The clock's still there — and still hasn't started — but it's been clear for awhile that we're not going to take care of ourselves, not collectively, anyway. Collectively we're going to be that idiot in Florida who stands athwart every hurricane, shirtless, waving the flag.
And hey, makes a nice picture. We'll be sure to include it in the memorial for the 97,426 dead as we write.
Add a Comment
Please
log in
to post a comment