Seven Experiments With Cats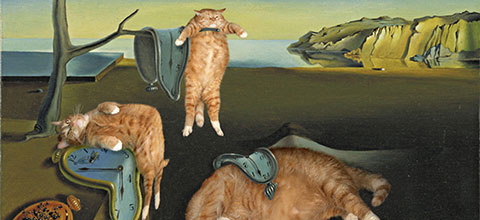 Experiment #1
Methodology: Open the front door.
Result: Cat does not go out. Nor does cat stay in.
Conclusion: Cats are incapable of making up their own damn minds.
Experiment #2
Methodology: Scratch belly while cat in supine position.
Result: Blood.
Conclusion: Human hand bears resemblance to small mammal whose entrails must be disgorged.
Experiment #3
Methodology: Allow cat to rub chin with face.
Result: Puncture.
Conclusion: Humans are suckers who fall for it every time.
Experiment #4
Methodology: Locate cat for veterinarian appointment.
Result: Disappearance.
Conclusion: Cats live in multiple dimensions, selecting the one most amenable in a given moment.
Experiment #5
Methodology: Purchase expensive cat toy.
Result: Cat prefers paper bag it came in.
Conclusion: Don't purchase expensive cat toys.
Experiment #6
Methodology: Investigate state of food dish at cat's insistence.
Result: Full.
Conclusion: It is not the existence of food that is determinative, but the effort expended in refreshing it.
Experiment #7
Methodology: Open can of tuna fish.
Result: Mayhem.
Conclusion: People with sad-eyed dogs at the dinner table don't know how good they have it.
The Persistence Of Cat's Memory [FatCatArt]
Add a Comment
Please
log in
to post a comment