Jesus H. Christchurch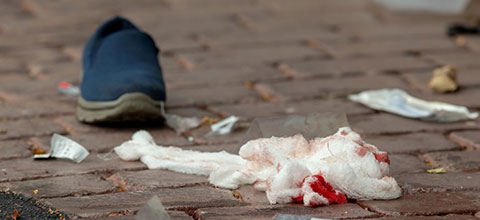 The world should be reacting in horror.
It is not.
Not all of it.
And that's the problem.
Let's call them White Nationalists. There are many other expressions we could use — Violent Racists comes to mind — and really, call them what you will. The problem isn't what we call them, but that they exist, and a significant number of people, including many who hold power in the United States, and many more who empower them, fundamentally agree.
The problem is that we are afraid, as a nation, to call them out. We are afraid to see them as they are, for what they are. We are afraid to shun them. We are afraid to resist them. We are afraid to fight them.
That's on us.
Moral clarity has consequences. People who share the view that others not like them are somehow less than them, are evil. Period. Full stop. End of discussion.
There was a time, perhaps, when you could get away with calling them merely ignorant. That time ended, just to be arbitrary, in 1980. Or 1968. Or 1963. Choose any date you'd like, really, but we're turning 60 next month, and anybody younger than us has no excuse. Neither does anyone older than us still living. We've had at least forty years to get this right. Or fifty. Or sixty.
We're not getting this right. We're not getting this right because a substantial number of Americans prefer to get this wrong, insist on getting this wrong. Not just the 40 percent who solidly support Our Racist President, but substantially more who refuse to call them out, who refuse to see the evil they carry and spread, who refuse to see the continuum of evil, from a casual bigoted remark to a violent attack.
It's all evil. The only difference is methodology.
And because we collectively refuse to see this evil, refuse to acknowledge to continuum of its existence, we know how this moment is going to play out. It's going to play out as it always plays out, in the media, in politics, in conversation. It will play out, and then it will happen again, because people refuse to do what is necessary to stop it, starting with seeing it for what it is.
We could stop it, of course. We could stop it in its tracks. Or at least fight it. Or at least resist it. We, the collective dominant critters in this planet, wield a lot of power to make shit happen, and to stop shit from happening.
But we don't, and we won't, because a substantial number of us are evil, and a great deal more have too much at stake in that evil to do anything about it. These are nice people. It's just their opinion. It's not our job as journalists to render judgment. It's not our job as geeks to deny a platform for open discussion. It's not our job, it's not our place. It's only in our prayers.
It's all real easy to fix, easy to change, all very simple. Except for the part where nobody wants to deal with it in the first place.
Add a Comment
Please
log in
to post a comment